Sweet Tea
Age:
26,
United States
Sweet Tea recently shot with us a few months back and she did such a great job we called her back for a cover shoot. She brought it with even more sexiness and turned it up all the way to the MAX! She just came on the scene a few months ago and already has fans begging us for more of her. I mean why not..? she has it all, huge natural ass and breasts, small waist, pretty face, long hair and she has no problem getting naked for Mixed Magazine. She loves to be in front of the camera and loves to connect with her fans. Watch her start off her photoshoot in a sexy leopard one piece with crotchless fish net and next thing you know she is wearing nothing at all and twerking. Some girls just know how to have fun and Sweeet Tea is one of them.
Basic Profile
Name: Sweet Tea

Gender: Female

Age: 26,

Country: United States
Appearance
Body: Thick

Ethnicity: Asian

Weight: 135kg (298 lbs)

Height: 170cm (5'6")

Hair Length: Long

Hair Color: Black

Eye Color: Brown

Orientation: Straight
Sweet Tea – Natural Sugar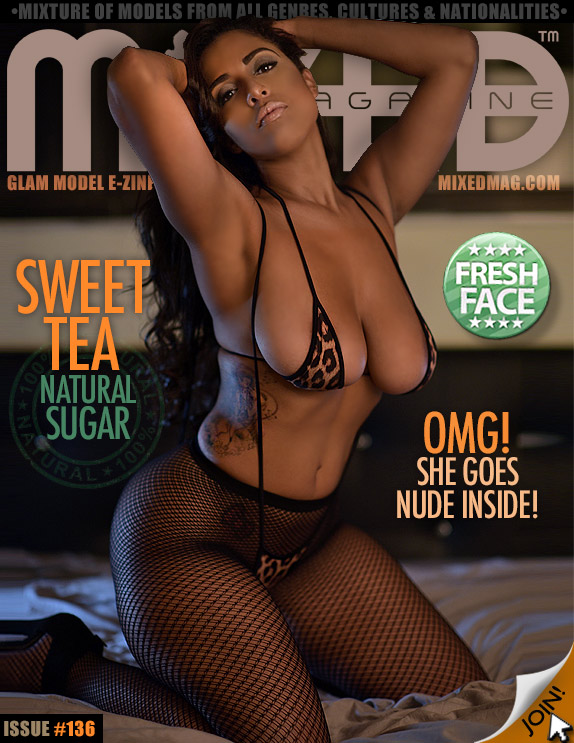 An Interview with Sweet Tea:
Where were you born, and how was life growing up? I was adopted from Manhattan New York, and I have had boobs since the 4th grade- so there really hasn't been a dull moment since! Boobs weren't cool to have Til 7th grade though!
How did you get your start in modeling? One random day last year, my best friend and sister, Rosie- asked me what I wanted out of life. And I simply said- I WANT TO BE FAMOUS! So I opened up all kinds of social media and before I knew it all kinds of awesome opportunities followed!
Favorite Sex position? Doggy Style- Its definitely the most fun and interactive for both parties! And I can twerk in that position
Have you ever kissed a girl? I have! I have also been ambushed by girls kissing me; I blame it on my big boobs and cherry Chapstick lol
What has been your most memorable experience as a model? So far, my most memorable experience as a model has been the work I have done in music videos for big name artists like Rick Ross, Rich Homie Quan, STICHES, etc in the Hip Hop and Latin genres. Also- being photographed in an expensive evening gown… IN the ocean.
What would the average person say about you? I'm lots of fun, I don't sit still for long, I'm really goofy and I have a really big heart… And boobs. Describe your most embarrassing moment. OMG! Bad Flashback! In my sophomore year of high school, while performing a dance routine for the junior class- I slipped and fell on stage. That memory still haunts me!
What's your biggest turn on? Talk DIRTY to me! The filthier the better!
What do guys compliment you most on? My waist line and my gluteus
What do you sleeping in? I really enjoy men's boxers! I love PSD underwear!
If you could go anywhere in the world, where would you go? I would go to Japan, all of my ink is Japaness- I have a great appreciation for their culture.
We know you're a model and all, but you must have a favorite food. What is it? NY style pizza and Fried Rice! For breakfast especially!
What are your dreams and goals? I want to travel the world and get to know as many people as possible and ultimately finished the two books im writing and be an icon for natural curvy women and adopted children.
Would you prefer a guy to pursue you, or do you like to be the aggressor? I like a little of both. Make me feel like a lady, but make me earn your affection as well.
How does someone contact you for a modeling project? They may contact me directly though my email thaisgonzalez@rocketmail.com or through any of my social media's DM option.
What is the largest gift offered to go out on a date with you? I had an artist recently offer me $5,000.00 USD and a spree at Louis Vuitton.
Would you date a guy that you met on social network? Of course! Technology is everything now a days!
Do you have a passport? I do, and I'm ready to travel the world in pursuit of my dreams and goals!