Stephanie Acevedo
Age:
25,
United States
Stephanie Acevedo is the beautiful singer/model from sunny Miami, Florida. Singing for Stephanie is her first passion but since she is so beautiful and lives in the model capital of the world she dabbles in modeling which we are all very grateful for. Stephanie is a very well rounded and intelligent model and it's obvious that she was raised very well. She has very high standards, goals and morals. Her physical beauty is perfect from head-to-toe with her beautiful face and perfectly shaped body. Stephanie Acevedo is one hot tamale! She is also very friendly and hangs out with some of the hottest Miami models including her best friend and Mixed Magazine Model Claudia Sampedro. Stephanie and her friends are not only glamour models but they are also role models to many. Keep an eye on Stephanie as she is always making big moves whether it's in modeling or singing. Make sure you join the member section where you can see Stephanie display her beauty for her sexy lingerie and beach photoshoot.
Basic Profile
Name: Stephanie Acevedo

Gender: Female

Age: 25,

Country: United States
Appearance
Body: Petite

Ethnicity: Hispanic / Latina

Weight: 54kg (119 lbs)

Height: 160cm (5'2")

Hair Length: Long

Hair Color: Black

Eye Color: Brown

Orientation: Straight
Stephanie Acevedo – Perfect Harmony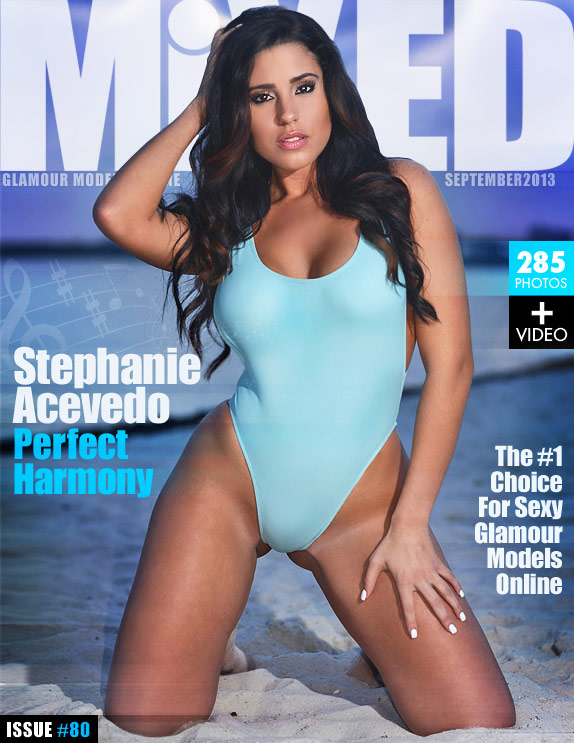 An interview with Stephanie Acevedo:
Where were you born, and how was life growing up? I was born in Miami to a middle class family. Were we spent most of our spare time on the beach. Boating, jet skiing and even fishing. I always had the love and support from my parents growing up and still till this day I do. I'm blessed for that.
What nationality are you? Although I was born in Miami. I come from two of the best cultures. My mom is Puerto Rican and my dad is Cuban
What would the average person say about you? They would say im a social butterfly, always singing and very girly. I'm always full of life and smiling
Are you a good dancer? I am, I was in the dance team in high school and I truly love to dance.
Do you like the nerdy type, muscle guy or the regular joe? I don't have a specific type but a man that can capture my attention would have to be a gentleman, ambitions, family oriented, and makes me smile.
Do you have any secret weaknesses or guilty pleasures? Bubble baths lol
What has been your most embarrassing moment? I was once on date with a guy i had a really big crush on , and after dinner i had food stuck on my teeth ,he was the one that noticed . my cheeks were so red of how embarassed i was :/
What has been your most memorable experience as a model? Receiving emails that I motivate others and I'm some one that other women look up too
What's your biggest turn on? a man that smells good, with a great smile
What's one thing about yourself that everyone should know? my love and passion for music
What do guys compliment you most on? my smile
Do you consider yourself more of a "giver" or a "taker"? I'm a Libra so i believe in balance so a little bit of both
If you could have any car you wanted, what would it be? a white Bentley
Do you have any hidden talents? Well i have been taking twerking classes haha
What do you like best about being a model? being a motivation, going to different places and meeting new people
What would you consider your strongest attribute? My voice! i believe it was a gift from god.
If you could go anywhere in the world, where would you go and who would you take with you? I want to go to Hawaii with my summer romance
We know you're a model and all, but you must have a favorite food. What is it? Sweets are my weakness. Ice cream makes me feel some type of way ;p
Besides modeling, what do you do for fun? I love to be in the studio working on music, going out to dinner, hanging out with good company, shopping, being on the beach or just staying home and watching a good movie .
What are your dreams and goals? I guess I can say my dream and goal together is to become a famous singer, I want to be an inspiration and make a difference to others . Also help my family and make them proud.
Would you prefer a guy to pursue you, or do you like to be the aggressor? I like a go getter , so I prefer him to pursue me.
How did you get your start in modeling? I started doing it for fun, and now I do it on the side besides everything else
What is your favorite social network? Instagram, I believe that pictures express what words cant
What's the craziest thing you've ever done? skinny dipping
Do you have a website? not yet but will keep you posted when i do
Favorite Sports Team: Miami Heat baby!!! I'm proud of my team!. I enjoy watching basketball
Favorite Comedian: Kevin hart
First Job: Victoria Secrets
Piercings/Tattoos (How many? Where?): no tattoos for me. I keep it simple I just have my ears pierced
What fun fact or talent should guys know about?: music, music, music its where my heart is
How does someone contact you for a modeling project? my email stephs_music@aol.com serious inquires only!