Shakira Hernandez
Age:
18,
United States
Shakira Hernandez is the new 18 year old model with a strong mind and body. She just recently did a photoshoot with photographer Ohrangutang in Miami and it got her noticed by everyone in Miami. Her booty was showcased in the photos and you could tell from the pictures that she was about the sexy. She has been shooting with several of the top photographers and growing her portfolio. Her body is completely muscular and toned to the bone but what makes this sexy all natural model different is her mental strength. First of all she has no fear. For example during her photoshoot on the 1oth story balcony she jumped right up on the railing and posed like she was sitting on the floor. She had absolutely no fear of slipping. She also showcased her no fear attitude throughout the shoot with her ability to try new things. She is one tough cookie and it's not every day you see a sexy model with such strength inside and out. She loves to workout and keep her body in top notch shape. If you want to work with a model on the rise then book this model asap!
Basic Profile
Name: Shakira Hernandez

Gender: Female

Age: 18,

Country: United States
Appearance
Body: Petite

Ethnicity: Black

Weight: 138kg (304 lbs)

Height: 172cm (5'7")

Hair Length: Shoulder Length

Hair Color: Black

Eye Color: Brown

Orientation: Straight
Shakira Hernandez – Strong Body & Mind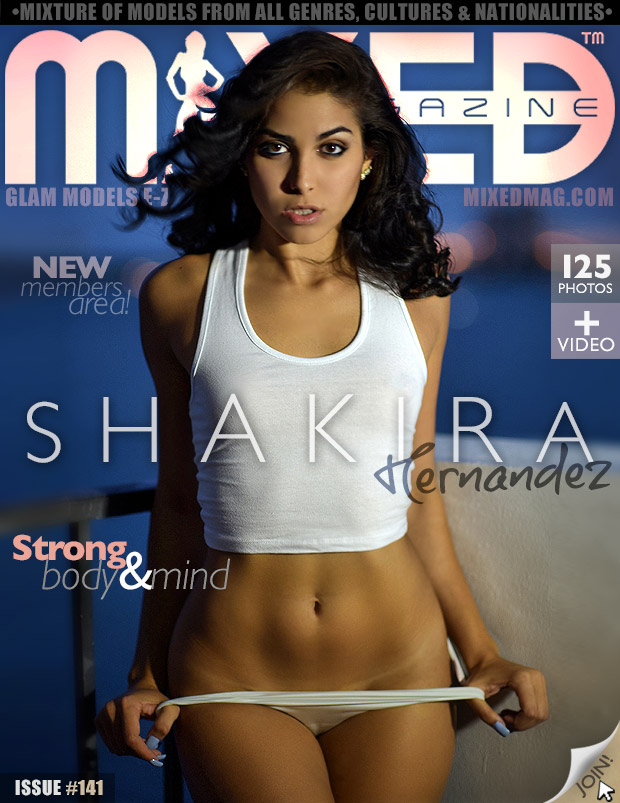 An Interview with Shakira Hernandez:
Where were you born, and how was life growing up? Born in Cuba and grew up in Miami. My life was interesting because I grew up quickly.
How did you get your start in modeling? I did modeling with John Casablanca when I was 12 then I stopped and picked it back up this year when I met up with Seven Talent Agency.
Have you ever kissed a girl? No
What has been your most memorable experience as a model? Sitting with my manager Kelvin at Starbucks :)
What would the average person say about you? That I'm amazing and full of personality
What's your biggest turn on? I'm a sucker for a smile
What do guys compliment you most on? My eyes
What do you normally sleep in? Booty shorts and a tee
If you could go anywhere in the world, where would you go? Far far away
We know you're a model and all, but you must have a favorite food. What is it? Sushi and pasta
What are your dreams and goals? To own 2 business
Would you prefer a guy to pursue you, or do you like to be the aggressor? It's neither. I just let things happen naturally
First Job: Ufit
How does someone contact you for a modeling project? email at shakiramgmt@gmail.com
What is the largest gift offered to go out on a date with you? Someone offered me hundreds on instagram
Would you date a guy that you met on social network? No
Do you have a passport? Yes