Renee G
Age:
21,
United States
Congratulations! You are one of the lucky individuals to witness this new model from Pensacola, Florida named RENEE-G! Now we all know that this is the booty era and we see countless girls these days running out to get the fake booty or using photoshop to simulate a fake butt only to end up with something completely opposite of what Renee-G has naturally – The perfect booty! Renee's butt is just awesomely round and ripe. There has been many rumors that white girls don't have big booties but Renee-G proves that rumor to simply be untrue. Renee-G says her butt drives guys crazy which we can only imagine. She owes all of her voluptuous curves to her countless hours in the gym doing gymnastics since she was a child. Renee-G is not only built perfectly from head to toe but she is also a very successful accountant for a large automotive company. She does modeling on the side because her bread and butter is in her accounting career. Renee-G is in total control of her life in every way which is what we truly love about her. She is the easiest person to work is always willing to meet someone halfway. She is simply one awesome woman. We know that you won't be able to get enough of Renee-G so we worked overtime with her to bring you several photoshoots and videos scenes that are awaiting you inside the exclusive members section. You won't believe your eyes when you see her in her daisy dukes, lingerie and her sexy thong on the beaches of Panama City!!
Basic Profile
Name: Renee G

Gender: Female

Age: 21,

Country: United States
Appearance
Body: Thick

Ethnicity: White

Weight: 137kg (302 lbs)

Height: 165cm (5'4")

Hair Length: Long

Hair Color: Blonde

Eye Color: Brown

Orientation: Straight
Renee G – Whootylicious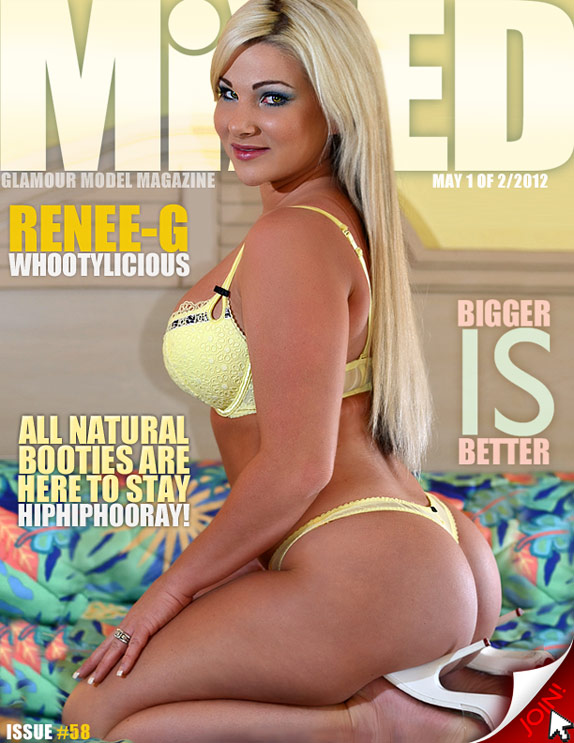 An interview with Renee-G:
Where were you born, and how was life growing up? I was born in Fairfax, Va but moved to pensacola, FL when I was 3. I did alot of back and fourth growing between my Dad's and grandparents house so I have a little bit of the north and south in me.. LOL
What nationality are you? I am caucasion and my heritage is half french half german.
Do you go to college? Yes I do I currently have my AA in accounting and I am working on my BA in business management
What would the average person say about you? I am a fun and loving person to be around until you make me mad… lol
What do you normally sleep in? I usually sleep in shorts and a tank but I always end up naked by morning I get hot easily when I sleep.
Are you a good dancer? I wouldn't say I am the best but I like to think I can move a little
What kind of guys are you attracted to? I like guys that are genuine and good hearted.
Do you have any secret weaknesses or guilty pleasures? for some reason because I am a diet freak my body loves chocolate, it is almost impossible to resist if its in my house.. lol
What's your biggest turn on? my biggest turn on is a challenge
What things would you like to get out of being in Mixed Magazine? Of course exposure is always a plus, the pictures are amazing so I am fortunate enough to have those. I guess I would just like people to be able to read about me and enjoy learning more as well any new experiences or work that comes from being in Mixed Magazine.
Who do you think is the sexiest Mixed Magazine model? Rali Ivanova
What's one thing about yourself that everyone should know? I am not just a blonde with a body I am very educated and well rounded.
What do guys compliment you most on? my eyes and my booty.. lol
Do you consider yourself more of a "giver" or a "taker"? I consider myself to definitely be a giver
If you could have any car you wanted, what would it be? probably a ferrari
Do you have any hidden talents? I can cook pretty well.
What do you like best about being a model? I enojy seeing the final finish of a long days of work. Sometimes its hard work butthe end results always pay off.
What would you consider your strongest attribute? My legs
Do you see yourself getting married and having a family? I am engaged and I do have a son so I think I am already on my way to doing that.
If you could go anywhere in the world, where would you go and who would you take with you? I would go to europe and I would take my fiance and best friends.
What is your favorite food? Mac n cheese… lol
What do you do for fun? shopping, playing with my son, or hanging with the ladies.
What are your dreams and goals? I truthfully just want to be successful no matter what it is that takes me there.
How did you get your start in modeling? I was put into a contest for a calendar and ended up being in 3 of the months from there I knew I enjoyed being in front of the camera
Favorite Comedian: Dave Chappelle
First Job: Bruno's Grocery store