Have you ever met that girl that just seems like there is something special about her? Well it happened with Rashel the first second I saw her. Rashel is a pure Genius. This 24 Surinamese knockout boasts perfect scores in the same ranks as Bill Gates and Mark Zuckelberg(Facebook Inventor). She scored a perfect 1600 on her SAT and a 36 on her ACT and has a Genius level IQ of 148. But she is not only book smart she is also business savvy and street smart. She does all the international negotiations for her fathers business and in her normal life she is in complete control and knows exactly what she wants and how to get it. She is working towards a few masters degrees is has been a commissioned officer in two countries. Hanging out with Rashel makes you feel that you are getting smarter by the second. She travels the world bouncing around to Asia, Europe and South America for business and pleasure and already has a lifetime full of experiences and wisdom. But let's talk about her sex appeal! Rashel is new to modeling but you wouldn't know it as she struck poses like the pros for her Mixed Magazine spread. Her carefree attitude and open personality shined through in all her pictures. Rachel is All is the Above and we are very excited to showcase her for the whole world to see. Read more about her below and make sure you check out Rashel's full photo spread and video inside our member section where it gets extremely sexy!
Basic Profile
Name: Rashel

Gender: Female

Age: 24,

Country: Suriname
Appearance
Body: Normal

Ethnicity: Mixed

Weight: 130kg (287 lbs)

Height: 165cm (5'4")

Hair Length: Long

Hair Color: Black

Eye Color: Brown

Orientation: Straight
Rashel the Smarty Pants!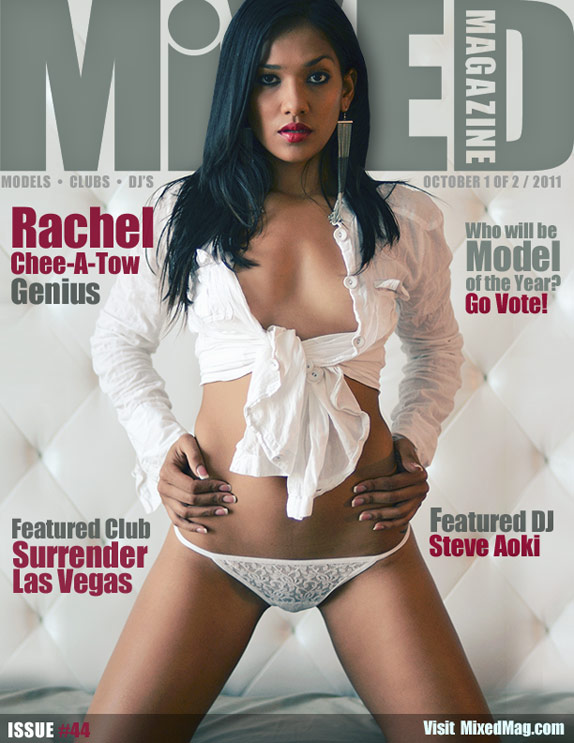 An interview with Rashel:
Where were you born and how was life growing up?
I was born in Suriname, South America, a small Dutch country in South America. Life was quite primitive growing up, you didn't have a lot to keep you busy- I always say that we were a decade behind civilization.
What nationality are you?
I'm Surinamese!
What languages do you speak?
Dutch, Africans, German and English (obviously)
Do you go to college?
Yes I studied biochemistry and then business
What would the average person say about you?
Ahh, I haven't the slightest clue
What did you score on your SAT
1600- Aced it!
Are you a good dancer?
Depends on the music and my mood
Do you like the nerdy type, UFC fighter guy or the regular joe?
I think it all depends on the person. I have dated across that spectrum, but personality and charisma definitely play a big role!
Do you have any secret weaknesses or guilty pleasures?
I'm accumulating a library. Every time I see good books, I collect them. I probably will never get around to reading all of them, but they cheer me up to see them around! (oops, i sound like a nerd)
What's your biggest turn on?
A confident gentleman
What's one thing about yourself that everyone should know?
I hate dumb people
What has been the craziest pickup line?
Some guy walked up to me during a conference, dropped an ice cube at my feet, and said: "now that the ice is broken, my name is —" LOL kinda creative
What do guys compliment you most on?
My legs
Do you consider yourself more of a "giver" or a "taker"?
Most of the time I am a giver.
If you could have any car you wanted, what would it be?
Aston Martin One-77
What would you consider your strongest attribute?
I have a big mouth. I really never fail to state what i think or believe in and ill do it eloquently.
What do you normally sleep in?
Nothing :)
If you could go anywhere in the world, where would you go and who would you take with you?
I would go to Australia again and probably take my 2 best friends with me
What is your favorite food?
Indonesian- in particular this soup called saoto
What do you do for fun?
I travel quite a lot, I usually will get together with friends and go to a random country we know nothing about!
What are your dreams and goals?
My ultimate goal is to retire and live a quiet life in some remote place, probably an island by beautiful blue-green water or in the jungle by a waterfall….