Odessa Williams
Age:
20,
United States
When Mixed Magazine hosts Lingerie Contests/Model Castings we always hope to find the fresh faces. Mission accomplished with Orlando's mixed model Odessa Williams. This new model is only 20 but is ready for the world with admirable confidence and beauty. In her very first lingerie contest she strutted her stuff like a pro. She comes from a white and black family and embraces all aspects of her nationality. She says she has best of the worlds and we agree. Odessa is currently seeking modeling projects and bikini contests to gain more experience and is working in Miami more and more these days. We have no doubt that Odessa will she is going to set the world on fire.
Basic Profile
Name: Odessa Williams

Gender: Female

Age: 20,

Country: United States
Appearance
Body: Petite

Ethnicity: Black

Weight: 120kg (265 lbs)

Height: 165cm (5'4")

Hair Length: Long

Hair Color: Black

Eye Color: Brown

Orientation: Straight
Odessa Williams – A Fresh Face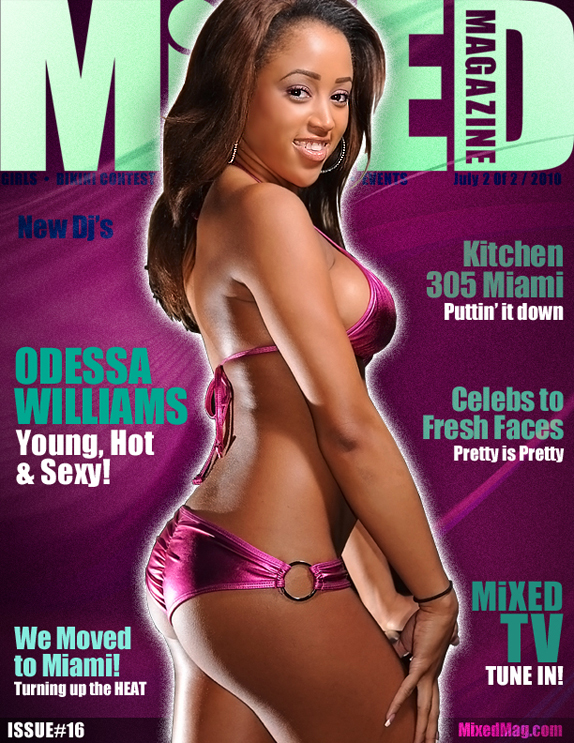 An interview with Odessa Williams:
Where were you born, and how was life growing up? I Born in Sunny Orlando Florida. Growing up I lived with a huge family and was known as a big sister and role model for my nine siblings. What nationality are you? White and black. I guess you can say an Oreo.. lol ( family being from London and Grenada ).
What would the average person say about you? The average person would say that I light up the room when I walk in and im always fun to be around.
Are you a good dancer? I'm definitely a good dancer. That was my passion growing up which is why I attended a performing arts school.
Do you like the nerdy type, UFC fighter guy or the regular joe? Humm im attracted to many types but they all must be fit, athletic, and tall.
Do you have any secret weaknesses or guilty pleasures? I love eating late night snacks like candy or ice cream.. lol (can't help it)
Odessa Williams at the Mixed Magazine Lingerie Contest at Roxy Nightclub in Orlando, FL.
Describe your most embarrassing moment. I try to keep those moments from happening and if they do I tend to play it off well. ;]
What has been your most memorable experience as a model? My first photo shoot and all the positive feedback.
What's your biggest turn on? Well groomed men , and style!
What's one thing about yourself that everyone should know? I love competition.. haha!

What do guys compliment you most on? My confidence.
Do you consider yourself more of a "giver" or a "taker"? I love making people feel special but taking is just as fun!

If you could have any car you wanted, what would it be? Aston Martin.. aghh sexy
Do you have any hidden talents? Well one that a lot of people don't know is I dance ballet. :]
What do you like best about being a model? Being in front of the camera!!
What would you consider your strongest attribute? Definitely my skin tone and facial features.
Do you have a website? Not yet
Relationship Status: SINGLE for once and loving it.
If you could go anywhere in the world, where would you go and who would you take with you? I want to travel the world to the most exotic beaches with my best friend because us together can turn any trip to and adventure.
We know you're a model and all, but you must have a favorite food. What is it? OMG JUNK FOOD!! Chocolates, ice cream, and cheese cake.
Besides modeling, what do you do for fun? Im a big time shopaholic, Love spending time wit my home girls, and I love going out dancing.
What are your dreams and goals? If I do not become a aspiring model I want to work in the medical field and show my love for helping people get better.
Would you prefer a guy to pursue you, or do you like to be the aggressor? 50/50.. I do like to take control sometimes..
How did you get your start in modeling? First I just got with photographers that I knew to do photo shoots then when a lot of people started seeing my pictures I started getting people asking me to do shows for them.
Myspace or Facebook? Upgrade… FACEBOOK!!
What's the craziest thing you've ever done? Haahaha something I definitely cant broadcast.
Favorite Sports Team: ORLANDO MAGIC BABY.
Favorite Comedian: umm not really
First Job: Pizza Hut..

Piercings/Tattoos (How many? Where?): 3 piercings in each ear, one piercing in bellybutton, and 3 tattoos. One tattoo is on the front of my shoulder, one on the front of my hip, and one on the back of my hip.
What fun fact or talent should guys know about?: Sometimes I like playing sports video games, and taking on challenges against guys. lol
How does someone contact you for a modeling project? https://www.facebook.com/odessaw or my email: odessa0304@aim.com
Thank you Odessa and Best of Luck!