Nina Kayy
Age:
26,
United States
Check out this busty babe Nina Kayy from Tampa, Florida. Nobody loves modeling more than this fresh face model. She loves to be the center of attention and she loves when the camera is on her. It's a true passion. Every time the camera points at her she finds herself turning up. Her eyes sparkle, teeth shine, boobies come out and the twerking begins. Her booty is flawless and clean as they come. Nudity is something that comes very natural to her and one of her immediate goals is to become a porn star. Nina has a ton of personality to go with her super curves. She has very high ambitions and she loves to hustle. If you are looking to work with a model who gives her all and is not afraid to get it poppin then book Nina Kayy! Her photo/video shoot inside is filled with POV, twerking and extreme nudity.
Basic Profile
Name: Nina Kayy

Gender: Female

Age: 26,

Country: United States
Appearance
Body: Thick

Ethnicity: Hispanic / Latina

Weight: 150kg (331 lbs)

Height: 162cm (5'3")

Hair Length: Long

Hair Color: Black

Eye Color: Hazel

Orientation: Straight
Nina Kayy – Snorkel Booty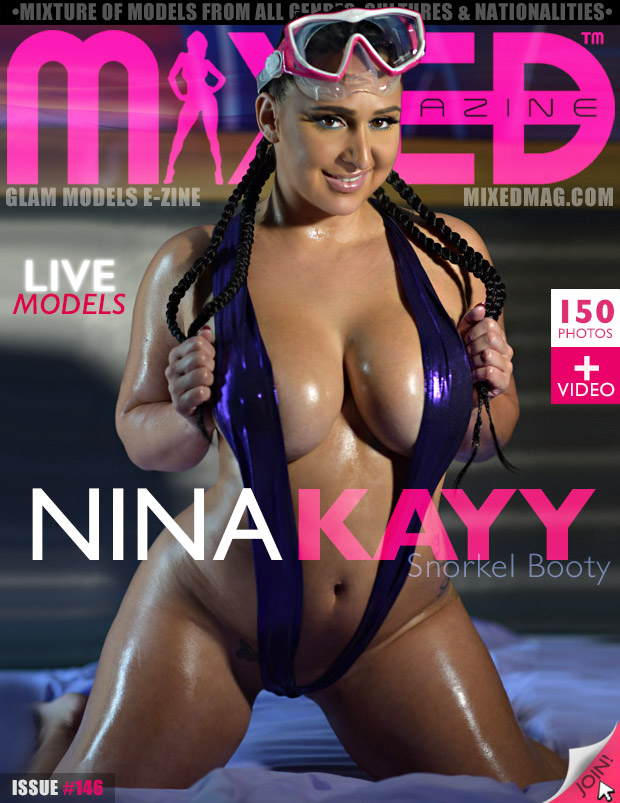 An Interview with Nina Kayy:
Where were you born, and how was life growing up? Belgrade Serbia . I pretty much played tennis a lot . There was a civil war going on so we moved to Canada. I finally moved to Tampa where life opened up for me.
How did you get your start in modeling? I started on model mayhem in 2008
Favorite Sex Position? Bent over backwards with a tropic view in front of me
Have you ever kissed a girl? Yes
What has been your most memorable experience as a model? I did a power photoshoot at a nudist resort
What would the average person say about you? That I'm a funny and sarcastic.
Describe your most embarrassing moment. I fell on stage dancing one time
What's your biggest turn on? Someone that finds me to the sexiest woman ever
What do guys compliment you most on? My butt
What do you normally sleep in? Boy shorts and a tank top
If you could go anywhere in the world, where would you go? Toyko
We know you're a model and all, but you must have a favorite food. What is it? Tacos
What are your dreams and goals? I want to own my own PR firm and own my own panty line
Would you prefer a guy to pursue you, or do you like to be the aggressor? I will only be pursued
First Job: lifestyle family fitness receptionist
How does someone contact you for a modeling project? Iamnotninakayy@gmail.com
What is the largest gift offered to go out on a date with you? I was offered 30k to go to Dubia
Would you date a guy that you met on social network? Yes
Do you have a passport? No