Nikki Rae
Age:
21,
United States
Nikki Rae – An Asian Beauty! We at Mixed Magazine like to keep things very versatile so we can live up to the name MiXED. This is why we have no problem showcasing all types of models. Check out the fresh face and your girl next door model named Nikki Rae from Melbourne, Florida. She is one sweet and sexy hottie that is mixed Irish, German and Thai. One of the reasons why we love Nikki is because she is a very professional and educated woman. She is a full time student and she also works full time at a hospital helping others. We all know beauty comes from within but when it's equally beautiful on the outside, well then I guess you have perfection which clearly describes Nikki Rae. Nikki is very sexy with her exotic look, long hair, silky smooth skin and flawless curvy physique. She wears her sexy clothes with confidence and amazing sex appeal. Shooting with her was a sinch because she knows how to work the camera. She is an all around A+ model and we know she will be turning heads after this exclusive photoshoot with Mixed Magazine. We highly recommend Nikki Rae to represent any company because she always brings the complete package. Make sure you check out her heart stopping photo/video shoot inside our too sexy for tv
Basic Profile
Name: Nikki Rae

Gender: Female

Age: 21,

Country: United States
Appearance
Body: Normal

Ethnicity: Mixed

Weight: 109kg (240 lbs)

Height: 166cm (5'5")

Hair Length: Long

Hair Color: Dyed (Other)

Eye Color: Brown

Orientation: Straight
Nikki Rae – An Asian Beauty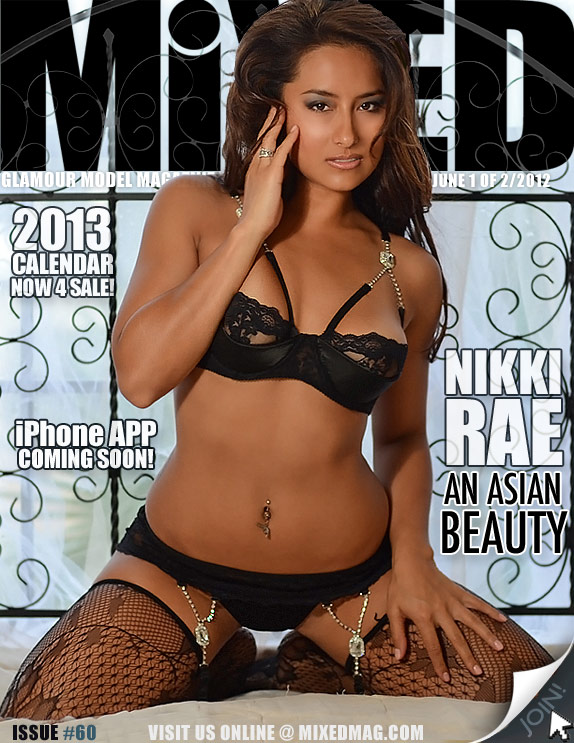 An interview with Nikki Rae:
Where were you born, and how was life growing up? Well, actually, I was born in Ft. Leavenworth, Kansas- yes the maximum security military prison base. My dad was in the Air force and, luckily, we were not stationed there for very long. We were actually stationed in Florida before I started school and haven't had to move again, so I can't say I am the typical travelled military brat. I am thankful to be able to have stayed in one town for my childhood, although now I'd love to be on the go, travelling! Overall, I was a happy child and have great memories of my childhood. Even with some pretty hard times involved, I have no complaints.
What nationality are you? I am ¼ Irish, ¼ German, and ½ Thai. My mother is from Thailand.
Do you go to college? Yes, I am a full time student working towards getting my Bachelor of Science, in Health Sciences, to become a Clinical RD (Registered Dietician). I plan to add some extra credentials to my title, such as being a CDE (certified diabetes educator). Who knows, I may eventually want to push forward for a Master's, time will tell.
What would the average person say about you? Many people tend to tell me that always seem so "happy" or "even tempered" and I normally am, it takes a lot to really tip this pot – but when you do, you better watch out! To me, there's just no justification in letting petty issues get the best of you, life will never be easy, especially if you stress about insignificant things all the time. I also don't like to let people know when I am upset, so I may hide it well. J
What do you normally sleep in? Normally it's something like my V-Secret camisole. It's the closest thing to nothing and very soft/sexy too.
Are you a good dancer? I'd have to say yes. I have always, always loved to dance. It's just another way for me to release any tension, worries, stress… As a little proof, I can tell you that I've never lost a booty shaking contest (and I've done several). In fact, I've won the booty shaking contest for three consecutive years (sometimes twice in a day) at Bike Week, that I was told someone in the crowd said they weren't voting for me this past time, because I win every year (Haha). I think I'm turning in my 'Ms. Bike Week Booty Shaker' title next time we go.
What kind of guys are you attracted to? I'm attracted to an intelligent guy, one that I can learn from. I love a "man's-man", who knows how be a "woman's- man" when it comes to me. A few more attractive attributes would be open-mindedness, down-to-earth, trustworthy/reliable, level-headed, respectful, confidence, athleticism, etc.
Do you have any secret weaknesses or guilty pleasures? Ice-cream! J I also have a pinch of dare devil in me, I love fast vehicles (muscle-cars and trucks), motorcycles (just started riding myself!), big guns (I own a XD-40 subcompact), rollercoasters, etc. I love thrill, but I am very cautious about it at the same time.
What's your biggest turn on? When someone can take charge and lead the way. I consider myself a strong minded, self-sufficient woman, but it feels great to just let the man take the lead. Confidence is what I like, so how can a man "feel like a man" if his woman is constantly restraining him and calling all the shots?
What's one thing about yourself that everyone should know? I'm very easy to get along with; in fact I cannot remember ever having enemies. If for some reason I do not like a person or situation, I will remove myself or confront it. Per one of my favorite quotes, "Do not mistake my kindness for weakness."
Who is your favorite Mixed Magazine Model? Hmm… I really dig Liz Lugo, can pull off cute AND sexy, which I love. She's gorgeous and I enjoyed checking out her gallery!
What do guys compliment you most on? My exotic look and that I am a "cool chick".
Do you consider yourself more of a "giver" or a "taker"? I'd say giver, because I have always loved to lavish my significant other (or loved ones) in one way or another and not expect anything in return. Sometimes I am the worst at taking, I feel requisite to return. Overall, I know balance is key and that give and take shouldn't be one-sided.
If you could have any car you wanted, what would it be? A cherry red 1967 Convertible RS SS Camaro would be amazing.
Do you have any hidden talents? I'm not too shabby at shooting long-range with a 7mm Magnum. Lol I'd consider myself more of a "Jack of All Trades", being good at many things, but not necessarily a master of one.
What do you like best about being a model? Modeling has always been a creative outlet for me. You get to play a character you may not typically be, it's fun. I feel like it's something that I'm good at. I love to meet new people, get inspired, and work hard. The best part about modeling is being paid to travel, now that I am able to do more of it (with online classes), I cannot wait to pack my bag again! Everyone wishes for a job that doesn't feel like work, and modeling is definitely that for me (not that it is always easy).
What would you consider your strongest attribute? I am a people person, well as long as they're not creepy! I try to be pleasant to strangers, because you never know what someone is dealing with.
If you could go anywhere in the world, where would you go and who would you take with you? I'd go to Thailand! I've been when I was 4 years old to visit my moms' side of the family, but that doesn't count. Actually my amazing boyfriend and I want to vacation there when we are done with school. If it's feasible at the time, I'd love to take my momma to visit the homeland again as well- she'd make a wonderful tour guide!
What is your favorite food? My mom's Thai cooking! She makes amazing Thai Beef salad, Green Curry, Pad Thai… Oh, and how can I forget sushi (love), it's an expensive habit.
Can you cook? Yes, I enjoy to. I don't have the time to make fancy meals too often, but I much rather cook something at home than go out to eat, if possible. It usually tastes better and is much better for you!
What do you do for fun? I'm an active/outdoors loving kind of person. I enjoy going to the beach, kayaking, fishing, bbq'n with friends/family, practicing riding my motorcycle, dancing, going to the gym, Bikram (Hot yoga), Hip Hop class, etc. My personality may be laid back, but I'm no couch potato.
What are your dreams and goals? Honestly, I just want to remain a happy person. A few things that may hold me there in my future would be to finish school, travel, land a good job, stay healthy and fit – you know, the American dream; all whilst doing some sort of modeling of course! I must find the best way for me to incorporate the modeling/acting with my degree, guess I'll have to audition to become a t.v Dietitian or a fitness model who writes her own dietary articles. Haha
How did you get your start in modeling? I asked my dad to put me in a modeling class at 9 years old, at 15 I asked to get pictures to build a portfolio. I did a handful of fashion shows and some print, but I was mostly focused on competitive all-star cheerleading for my high school years, so I didn't have much time for modeling. I'd say I've been doing the bulk of my modeling since about 21 years old.
Favorite Comedian: Anjelah Johnson is pretty hilarious. Look up her skit 'Nail Salon'.
First Job: Nature's Table, I was 15 and stoked to be able to make my own money. My best friend worked across the mall food court at Subway; it was brief, but perfect at the time. I also worked at Cracker Barrel and Victoria's Secret during my high school years.
How does someone contact you for a modeling project? I can be messaged at www.facebook.com/MissNikkiRae and will give serious inquiries my email.