Natasha Jolie
Age:
25,
United States
Meet the sexy and petite model from Orlando, Florida, Natasha Jolie. A newcomer to the modeling world which is always great to see. She has been away from the camera mainly because she has been behind the books as she is a full time student. But it was just a matter of time until this Persian beauty busted out of her school attire to reveal her sexy curves. She loves to be in front of the camera and does it with such ease. Natasha is quite the lady and loves a true gentlemen. She has a very calm manner about her that gives you the feeling as if you've escaped into another world. She simply doesn't sweat the small things. Natasha is sister to a popular Mixed Magazine Model named Shanna Corrina. The two of them work as go-go dancers in several Florida nightclubs. One thing that Natasha prides herself on is her Persian cooking. She loves to cook and says it runs in the family. Sounds like marriage material to me. Sexy, chill and loves to cook!?.. hold on, let me pinch myself..-Ouch! It's official Natasha Jolie is for real.
Basic Profile
Name: Natasha Jolie

Gender: Female

Age: 25,

Country: United States
Appearance
Body: Thick

Ethnicity: Mixed

Weight: 140kg (309 lbs)

Height: 165cm (5'4")

Hair Length: Very Long

Hair Color: Black

Eye Color: Brown

Orientation: Straight
Natasha Jolie – Persian Beauty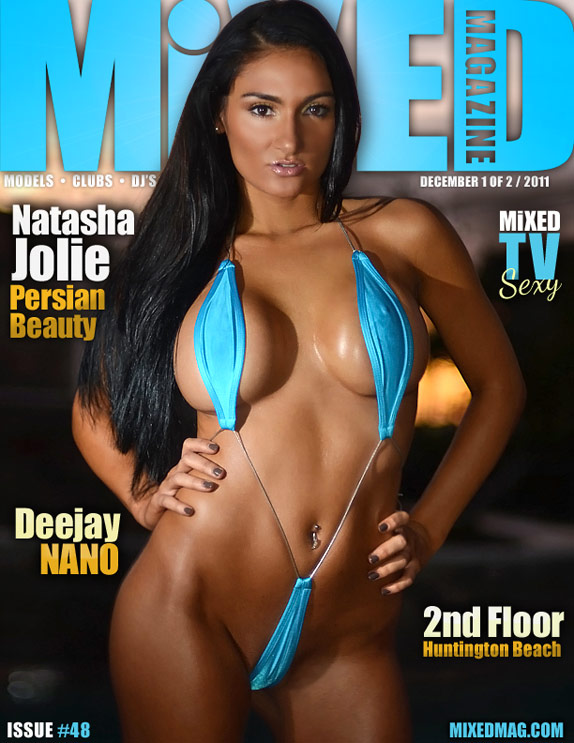 An interview with Natasha Jolie:
Where were you born, and how was life growing up?
I was born in Cleveland, but raised in Naples, FL. Growing up in Naples there wasn't much to do except to go to the beach with friends and to keep busy with cheerleading. I had the most amazing childhood and friends.
What nationality are you?
Persian
Do you go to college?
Yes, school is my boyfriend.
What would the average person say about you?
Im pretty laid back and care free and like to make my friends laugh.
What do you normally sleep in?
No, I actually have this thing called a life.
Are you a good dancer?
Ive been dancing for clubs, artists and Djs for awhile. I don't think they would book me if I wasn't.
What kind of guys are you attracted to?
I don't have a "type". I love the funny guy though, for me it is an absolute must that he should be able to put a smile on my face. Although, I'm attracted to men with brown hair and blue eyes because of my Frank Sinatra obsession.
Do you have any secret weaknesses or guilty pleasures?
Watching shows on cold cases, murders, psychopaths, hauntings, whatnot. Strange to some I suppose, but I tend to find my morbid curiosities comforting. I get more excited when I find unseen interviews with convicted serial killers than the new season of 90210 (or whatever). Names like Jack the Ripper and Ted Bundy are more familiar to me than any E! Channel socialite.
What's your biggest turn on?
Someone with goals and dreams. Someone who is ambitious and goes for what they want.
What's one thing about yourself that everyone should know?
I'm not a backstabber, I'mm trustworthy around your boyfriend (or even just the guy you like, I wont try to steal him), I dont get caught up in 'the scene', I don't fall for bullshit, I don't fall easy/hard/or quick, I don't idolize retards like Paris Hilton, I'm level headed and not crazy or damaged, I don't follow trends… baahh I could go on forever. Come to think of it, im probably considered abnormal, because just about everyone else in the world harbors these awful traits.
What do guys compliment you most on?
My eyes and smile.
Do you consider yourself more of a "giver" or a "taker"?
I like to "give", but I loooove to "take" wink wink :)
Do you have any hidden talents?
Im smarter than most people think
What do you like best about being a model?
I love meeting new people.
What would you consider your strongest attribute?
I'mm easy going and down for whatever
If you could go anywhere in the world, where would you go and who would you take with you?
Dubai with my bestie and sister Shanna
What is your favorite food?
I looove Tom Kha soup
Can you cook?
Just call me Chef Tasha
What do you do for fun?
I love reading, working out or haning drinks with the girls
What are your dreams and goals?
Im completely obsessed with the ocean and its creatures, and ancient ruins/civilizations. My dream job would be to some how combine the two and make boucou bucks doing so. Since I dont know how to do that, I plan to spend my older years traveling on land and sea while discovering new sea creatures and old temples and whatnot – Just for fun
Favorite Comedian:
Ellen Degeneras
First Job:
I was a camp counselor for YMCA
How does someone book you for a modeling project?
My twitter @itsnatashajolie