Lisandra Perez
Age:
20,
United States
Check out this new model Lisandra Perez from Miami, Florida. She comes to us by Seven Talent Agency who specializes in booking the hottest models from LA, NYC and Miami. Lisandra gets the cover because her body is all natural, fit and flawless. She was spotted in the gym working out and the next thing you know she is in front of all of the type photographers cameras. It's not every day you get to see a perfect set of natural breasts combined with a perfect booty and a beautiful face. She also knows how to work this perfect body as well as if she was born to be a model. Her personality is very fun and energetic as well. Lisandra is every man's Kryptonite. Her Mixed Magazine photoshoot was ultra sexy as she flaunted and moved her sexy booty to some slow jams in a five star hotel lit in dimmed colored spot lights. If you love perfect models with all the right curves and all the right moves then you will fall in love with Lisandra Perez. She is available for all types of modeling from bikini, fashion, tradeshows, hostings, etc.
Basic Profile
Name: Lisandra Perez

Gender: Female

Age: 20,

Country: United States
Appearance
Body: Normal

Ethnicity: Black

Weight: 125kg (276 lbs)

Height: 169cm (5'6")

Hair Length: Shoulder Length

Hair Color: Dyed (Other)

Eye Color: Brown

Orientation: Straight
Lisandra Perez is Kryptonite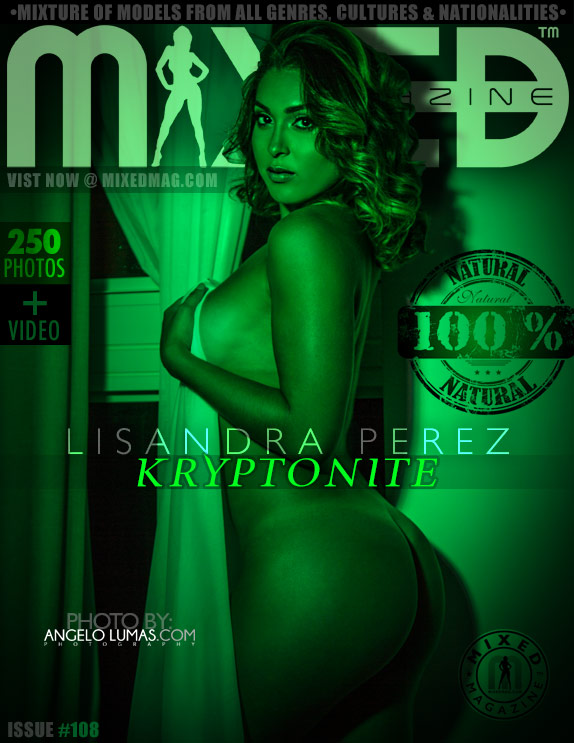 An Interview with Lisandra Perez:
Where were you born, and how was life growing up? I was born in Miami and life was good to me. I always have had a lot of great friends and enjoy living in the sunny city of Miami because it's simply the sexiest place on earth.
What would the average person say about you? I'm outgoing,
Are you a good dancer? I was a cheerleader, salsa dancer
Do you like the nerdy type, muscle guy or the regular joe? Don't have a type
Do you have any secret weaknesses or guilty pleasures? I love La Brassa
Describe your most embarrassing moment. I don't really get embarrased
What has been your most memorable experience as a model? Shooting the cover of Mixed Magazine with Angelo Lumas. He was so easy to work with and funny :)
What's your biggest turn on? When a guy smells good
What's one thing about yourself that everyone should know? I have a great personality!
What do guys compliment you most on? My body
Do you consider yourself more of a "giver" or a "taker"? Giver
If you could have any car you wanted, what would it be? A Maserati, White with red interior
Do you have any hidden talents? I can draw
What do you like best about being a model? Posing for the camera.
What would you consider your strongest attribute? Personality
If you could go anywhere in the world, where would you go and who would you take with you? I would go to Dubai, with my loved ones.
We know you're a model and all, but you must have a favorite food. What is it? Pizza…
Besides modeling, what do you do for fun? I enjoy working out getting in shape, going out with friends and enjoying my youth.
What are your dreams and goals? My dream is to be a very known model very great and successful person, Main goal is to travel all over the world.
Would you prefer a guy to pursue you, or do you like to be the aggressor? Depends
How did you get your start in modeling? My modeling career started about a year ago shooting for a opening clothing line.
What is your favorite social network? Instagram
What's the craziest thing you've ever done? Ran from a bull
Relationship Status: Taken
Favorite Sports Team: Miami Dolphins
Favorite Comedian: Kevin Hart
First Job: hostess
Piercings/Tattoos (How many? Where?): One tattoo, lower abs
What fun fact or talent should guys know about?: I'm very flexible ;)
How does someone contact you for a modeling project? EMAIL: seventalentagency@gmail.com