Lena Penta
Age:
26,
United States
Lena Penta is the 26 year old all natural model from Brooklyn, New York. Let's start off by talking about how awesome of a person Lena is. This girl shows nothing but love to everyone and is drama free like it was a gift from god. Some people get the punch of Mike Tyson or the height of Shaquelle O'Neal but Lena was given the coolest personality. Perhaps it's a Brooklyn thing but either way Lena Penta is one superb person. Now let's talk about how sexy this 5'1 all natural Italian/Cuban model is. As soon as Lena arrived into Miami I started to hear fire truck sirens. She is so fine that she has to wear baggy clothes so that she is not mobbed by camera phones. Her striking beauty and her amazing curves simply are undescribable but let's try. She has perfect natural boobs, flawless tan velvety skin, a perfectly round voluptuous booty and she's all toned with strength because she is a full time dance instructor for the kids. She expresses her great love for dogs and she says she loves them more than anything on the planet. She has a big pit pull that has been turned into a loveable lap dog because Lena showers him constantly with love. How does it get any better then Lena Penta? A loveable drama free woman with the body that doesn't quit. Oh..and she cooks, cleans, etc. etc…She is simply Marriage Material. Check out the sexiest photoshoots inside the exclusive member section!
Basic Profile
Name: Lena Penta

Gender: Female

Age: 26,

Country: United States
Appearance
Body: Normal

Ethnicity: Mixed

Weight: 133kg (293 lbs)

Height: 165cm (5'4")

Hair Length: Shoulder Length

Hair Color: Black

Eye Color: Brown

Orientation: Straight
Lena Penta – Brooklyn's Best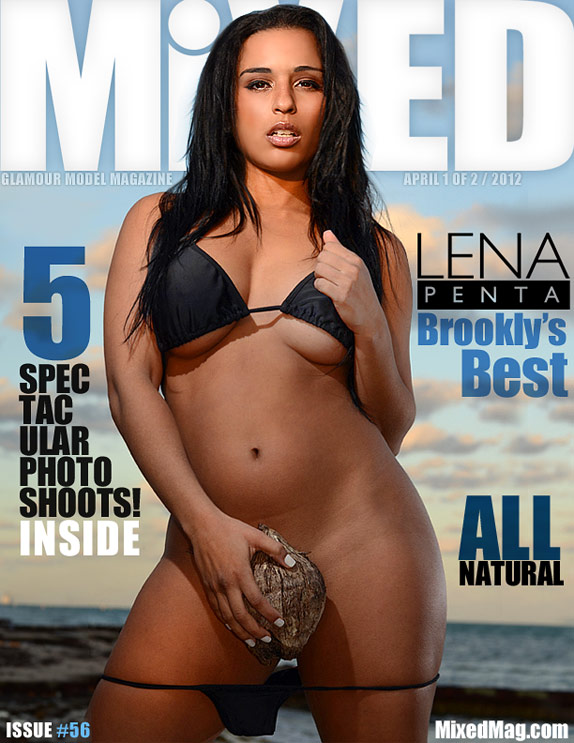 An Interview with Lena:
Where were you born, and how was life growing up? I WAS BORN AND RAISED IN BROOKLYN, NEW YORK. MY LIFE GROWING UP WAS GREAT! I HAVE AN AWESOME FAMILY AND WONDERFUL PARENTS
What nationality are you? PROUD TO SAY THAT IM 50% CUBAN 50% ITALIAN AND 100% ATTITUDE !
Do you go to college? YES I WENT TO A COMMUNITY COLLEGE FOR 2YEARS GOT MY ASSOCIATES DEGREE THEN STOPPED BECAUSE I AM SO NOT A SCHOOL PERSON AT ALL!! I HATE WRITING PAPERS HATE TESTS. THE BEST WAY I LEARNED THINGS IS THROUGH LIFE EXPERIENCES.
What would the average person say about you? The average person WOULD SAY THAT THEY LOVE ME !!!!!! BECAUSe IM FUN AND OUTGOING and i COULD HANG WITH ANYBODY!
What do you normally sleep in? I normally sleep in big T-shirt and undies
Are you a good dancer? I AM AN AMAZING DANCER
What kind of guys are you attracted to? I LOVE ME SOME ! BLUE EYES LIGHT SKIN GETS ME EVERY TIME! BUT I FOUND SOMETHING ATTRACTIVE IN ALL DIFFERENT RACES CULTURE, ACCENTS, THINGS LIKE THAT ARE PRETTY HOT TOO!
Do you have any secret weaknesses or guilty pleasures? My secret weakness I am extremely ticklish on my feet u cant even touch them!
What's your biggest turn on? My biggest turn on is Eyes, Confidence , and a mans natural scent .
What's one thing about yourself that everyone should know? Everyone should know that I am the most loyal, kindhearted friend. The kind of friend that would give you the shirt of your back. But if mess with me , or stab me in the back im your worst enemy
Who is your favorite Mixed Magazine Model? My favorite Mixed Magazine model is Alyssa Jerry what a beautiful girl
What do guys compliment you most on?Guys most compliment on my nationality they always say "what an awesome mix that is "
Who is your favorite photographer?My favorite photographer is Nigel Barker been a fan of Americas top model since Day 1
Do you have a favorite DJ you would like to give a shout-out to? I would like to give a shout out to my man Pauly D best dj I LOVE HIM!
Do you consider yourself more of a "giver" or a "taker"? I'm a little of both a giver and a taker
If you could have any car you wanted, what would it be? I'm not really into cars at all so they car that i really want is a hooked up brand new Jeep Love them
Do you have any hidden talents? My hidden talent is hula hooping i could literally hula hoop for days !!
What do you like best about being a model? I love being a model because you meet so many people, you get to travel, and experience things that a normal person wouldn't
What would you consider your strongest attribute? My strongest attribute is my Brooklyn swag street smarts
If you could go anywhere in the world, where would you go and who would you take with you? I would love to go to Bora Bora with the special man in my life and my pit bull
What is your favorite food? My favorite food is Japanese
Can you cook? Listen I'm not like Iron Chef of America but my food is pretty good
What do you do for fun? What i like to do for fun is just to be surrounded by friends have some cocktails and laugh
What are your dreams and goals? My dreams and goals are to continue to model and just be to happy lifes too short
How did you get your start in modeling? )I actually started to model 7 years ago when i entered a Maxim Magazine competition and won! was hooked since then
Favorite Comedian: My favorite comedian i dont have one so ill name my top 3 Kevin Hart, Katt Williams, and Chris Rock

First Job: My first job was at a pet store because im completely obsessed with animals and still am

How does someone contact you for a modeling project? LenaPenta@twitter.com