Kathy Red
Age:
26,
United States
Kathy Red is that chick you just wanna see! Her fiery red hair and tan Dominican skin combined with her northern hip-hop style make her one of the most sultre vixens in the tri-state area. Her personality and attitude is laid back and chill making her one of the easiest models to work with. It's a win win with Kathy Red all day every day. She has been climbing the charts fast in the modeling world. If she is not hosting a club she is shooting for a magazine or rubbing elbows with the biggest hip hop artists. It's non stop action with K-Red. If you are a photographer looking to book a model with all that and more then book one of the best in the game with Kathy Red.
Basic Profile
Name: Kathy Red

Gender: Female

Age: 26,

Country: United States
Appearance
Body: Normal

Ethnicity: Black

Weight: 130kg (287 lbs)

Height: 165cm (5'4")

Hair Length: Short

Hair Color: Dyed (Other)

Eye Color: Brown

Orientation: Straight
Kathy Red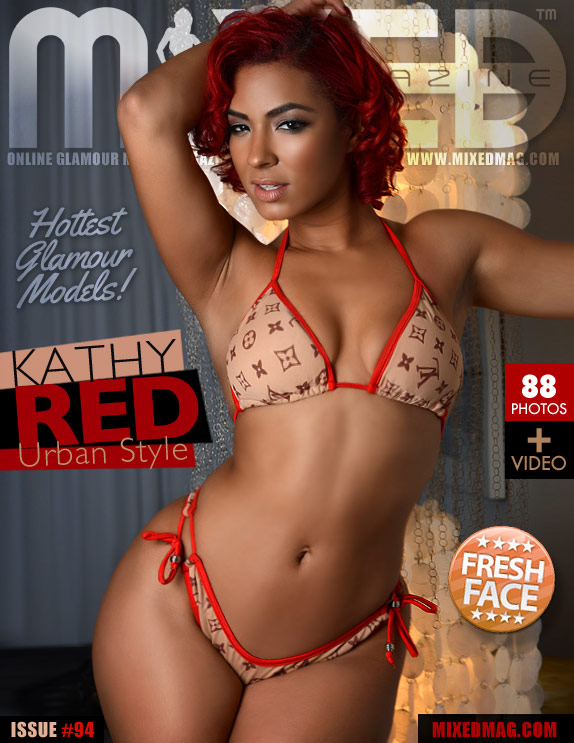 An Interview with Kathy Red:
Where were you born, and how was life growing up? I was born here in the states in weehawken New Jersey. Life was and is good,can't complain.
What would the average person say about you? That I'm a sweetheart, but dont fuck with me.
Are you a good dancer? Yes I can dance my little booty off.
Do you like the nerdy type, muscle guy or the regular joe? I like successful ppl. It doesn't matter if you're a nerd, or a regular Joe, just make sure you work hard for yours. I respect that.
Do you have any secret weaknesses or guilty pleasures? I love a man who is in full control. Thats my weakness.
Describe your most embarrassing moment. Any one who knows me, knows I am a bit of a clutz and that there are so many embarrassing moments with me, lol, so I'm not going to go thru them now.
What has been your most memorable experience as a model? Being able to travel and get paid for it is definitely one of my best experiences as a model. Ppl would die to switch places with me, so I'm very grateful for my life.
What's your biggest turn on? My biggest turn on is a bossed up dude.
What's one thing about yourself that everyone should know? Everyone should know that I love to ride horses. It's one of my hobbies.
What do guys compliment you most on? My eyes.
Do you consider yourself more of a "giver" or a "taker"? I like to do both.
If you could have any car you wanted, what would it be? It would be a pink or red lamborgini.
Do you have any hidden talents? I can sing a lil bit. I also am a hairstylist n make up artist.
What do you like best about being a model? I love the process of getting glammed up.
What would you consider your strongest attribute? My strongest attribute is that I am very sensitive. I care alot about other ppl before I care about myself. It's also my worst attribute.
If you could go anywhere in the world, where would you go and who would you take with you? I wanna go to IBIZA with all my girls!!
We know you're a model and all, but you must have a favorite food. What is it? Phillipe Chows is all I eat back in NYC.
Besides modeling, what do you do for fun? I love to ride horses, party, movies, date dinners, etc etc. Live the good life!
What are your dreams and goals? My dream I am livin in it. My goals are to start my own cosmetics line.
Would you prefer a guy to pursue you, or do you like to be the aggressor? Pursue me god dammit
How did you get your start in modeling? I started off as a promoter and bartender.
What is your favorite social network? Instagram
What's the craziest thing you've ever done? no comment
Do you have a website? No.
Relationship Status: Single
Favorite Sports Team: Jets
Favorite Comedian: Martin Lawrence
First Job: Burlington Coat Factory
Piercings/Tattoos (How many? Where?): none
What fun fact or talent should guys know about?: I'm very spontaneous. Don't be surprised by me.
How does someone contact you for a modeling project? KATHERINEKNUNEZ@GMAIL.COM