Jolina Bonita
Age:
18,
United States
Meet Jolina Bonita:
Nowadays we always need to point out when models are all natural and Jolina Bonita is equipped with the natural boom and the bang! This UK model traveled to Miami to shoot exclusive photos and video for Mixed Magazine. She lives the good life as she travels the world going from country to country modeling and enjoying life. She is extremely calm, cool and collected. Modeling comes very natural to her. During the shoot she went right into sexy poses without any warming up which is always a treat as a photographer. Jolina is also a graphic designer and is very creative. Her vision is vast and she is guaranteed to take over in whatever she does. She has graced the covers of several magazine such as Smooth, Black Men and now Mixed Magazine. She is one of the most sought after models of today in the urban scene because of her incredible booty and carefree attitude joined with extreme sex appeal.
Jolina is one the baddest ever so make sure you check out this perfect 10 and all her exclusive HD photos and videos in the member section.
Basic Profile
Name: Jolina Bonita

Gender: Female

Age: 18,

Country: United States
Appearance
Body: Normal

Ethnicity: Hispanic / Latina

Weight: 64kg (141 lbs)

Height: 168cm (5'6")

Hair Length: Long

Hair Color: Honey Blonde

Eye Color: Brown

Orientation: Straight
Jolina Bonita – Perfect Like a Doll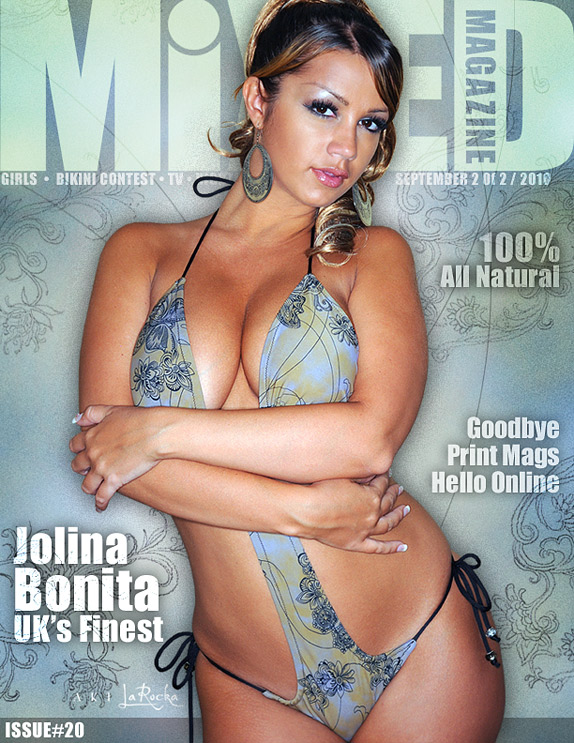 An interview with Jolina Bonita:
Where were you born, and how was life growing up?I was born in Argentina, life was tough growing up but it teached me a lot about being a strong female now a days

What nationality are you? Argentine.

Do you go to college? I went to University and have a degree on Media Design.
What would the average person say about you? I'm a down to earth person.
Are you a good dancer? Yes I'm south American :)
Do you like the nerdy type, UFC fighter guy or the regular joe? I guess a mix of a UFC fighter mixed with regular Joe.
Do you have any secret weaknesses or guilty pleasures? I have a bad weakness for shoes , its really really bad, i'd cry if I dont get the shoes I want, but that dont last for too long coz Ii still end up getting them at one point.
What's your biggest turn on? A person that accheved so much in life but still keeps it humble.
What's one thing about yourself that everyone should know? I can write with both hands.
What do guys compliment you most on? My face , my butt , that's before they find out my personality is even better.
Do you consider yourself more of a "giver" or a "taker"? I'm a giver all the way.

If you could have any car you wanted, what would it be? I have a thing for BMW's don't ask me why but I'd like to have one of the newest BM"s in babyblue.
Do you have any hidden talents? I paint portraits , I attended an Art school when I was younger.I paint with oil paints at spear time.
What do you like best about being a model? Traveling the world.
What would you consider your strongest attribute? My mind and my drive.
If you could go anywhere in the world, where would you go and who would you take with you? I'd go to Maldives and I'd take my man with me.
What is your favorite food? South American, Jamaican and Italian.
What do you do for fun? I travel for fun lol.

What are your dreams and goals? I just wanna be happy , it's the simple things in life that make you feel that way.