Jennifer Sosik
Age:
23,
United States
Check out this thick babe from Tampa, Florida named Jenny Sosik. It's not every day you get to see a super thick Ukrainian babe so when we seen Jenny we knew she was perfect for the cover. This beauty is from sunny Tampa, Florida and is relatively new to modeling. She is very comfortable in her own skin and loves being in front of the camera. She has all the attributes and curves to make any image pop. Her body is golden tan and her face is as cute as a button. Her curvy body fills out any outfit you put on her. She was perfect wearing the sexy slingshot swimsuit which looked perfect along side her golden shiny tan skin. Jennifer has the awesome care free personality. She goes with the flow and lives her life that way. She loves to travel and spends alot of her time in Miami where she can be as sexy as she wants to be. Read more about this doll face beauty below.
Basic Profile
Name: Jennifer Sosik

Gender: Female

Age: 23,

Country: United States
Appearance
Body: Thick

Ethnicity: Black

Weight: 150kg (331 lbs)

Height: 170cm (5'6")

Hair Length: Long

Hair Color: Dyed (Other)

Eye Color: Hazel

Orientation: Straight
Jennifer Sosik – Ukranian Bae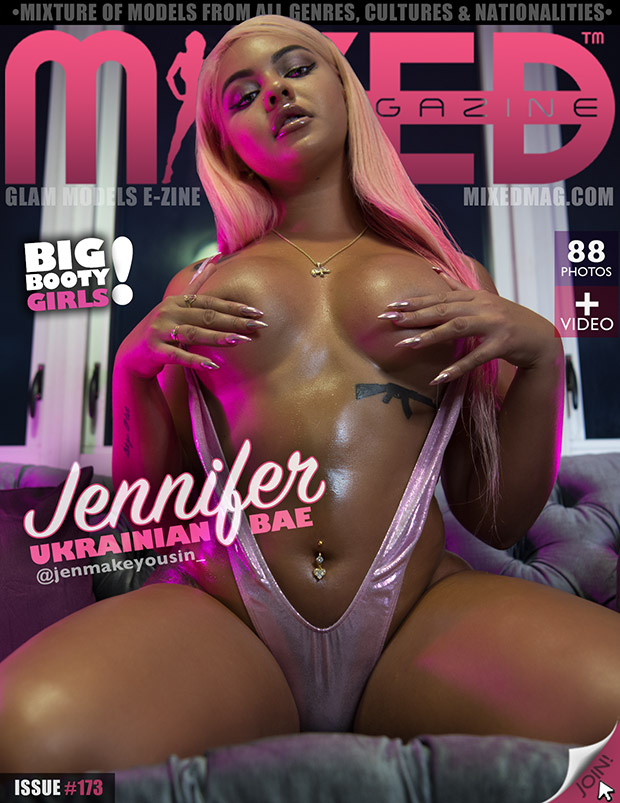 An Interview with Jennifer:
Where were you born, and how was life growing up? Tampa, had a great childhood. No complaints
Have you ever kissed a girl? Yes, an old friend.
What has been your most memorable experience as a model? Probably going to Mexico to shoot with a magazine.
What would the average person say about you? Loyal, caring, can be to myself at times.
Describe your most embarrassing moment. Don't really get embarrassed to easily, but probably falling in front of a large crowd.
What's your biggest turn on? Someone driven, and loyalty.
What do guys compliment you most on? My hair & eyes
What do you sleeping in? Underwear & a t shirt
If you could go anywhere in the world, where would you go? Paris
We know you're a model and all, but you must have a favorite food. What is it? Pizza
What are your dreams and goals? I want to own a business & get into real estate one day. Take if my family.
Would you prefer a guy to pursue you, or do you like to be the aggressor? I like to be pursued
First Job: movie theater
How does someone contact you for a modeling project? Through Instagram
What is the largest gift offered to go out on a date with you? Large amounts of money
Would you date a guy that you met on social network? Sure
Do you have a passport? Yes