Jai
Age:
26,
United States
Jai is the ultra sexy glamour model that lives in sunny Miami, Florida. Modeling comes very easy to Jai because moving her body into sexy poses comes very natural to her. She is a photographers dream come true. Instead of having to tell her how to pose she just snaps into them so all you have to do is just keep clicking the button. She is also excellent for doing music videos because of her expert dance moves. Dancing for Jai is like breathing. Jai is extremely professional and relaxing to be around. You don't have to worry about her being late to a photoshoot or bringing an entourage. She is extremely confident and always brings 110% to each and every shoot. Her well placed and exotic tattoos fit her look very well. We could rave about Jai all day long but we think seeing is believing. Go read below and see for yourself why her social network handles are @5starJai.
Basic Profile
Name: Jai

Gender: Female

Age: 26,

Country: United States
Appearance
Body: Normal

Ethnicity: Hispanic / Latina

Weight: 59kg (130 lbs)

Height: 165cm (5'4")

Hair Length: Shoulder Length

Hair Color: Blonde

Eye Color: Brown

Orientation: Straight
Jai – Hot Ink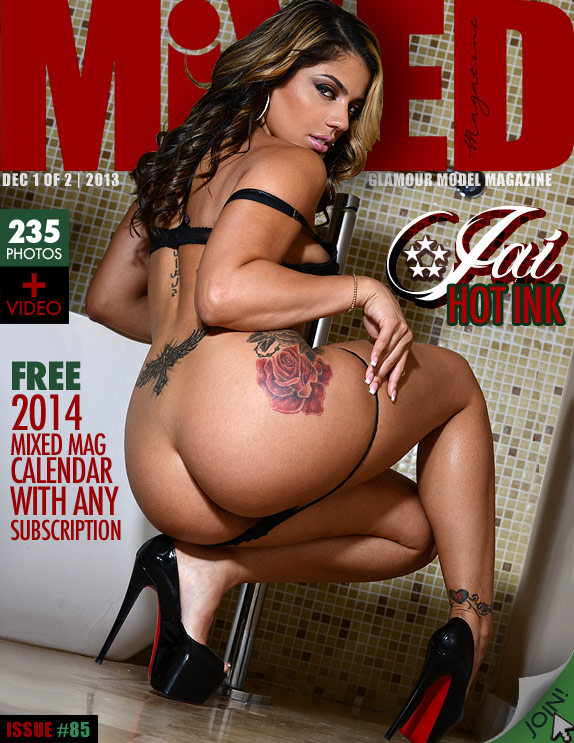 Interview:
Where were you born, and how was life growing up? I was born in Miami ,Florida. Life Growing up was not easy but only the strong survive.
What would the average person say about you? That I'm Real
Are you a good dancer? Yes I am and a great one to
Do you like the nerdy type, muscle guy or the regular joe? All the above , lol
Do you have any secret weaknesses or guilty pleasures? I like pain and pleasure at the same time
Describe your most embarrassing moment. I don't have those
What has been your most memorable experience as a model? Meeting different celebrities and traveling to different destinations
What's your biggest turn on? Money
What's one thing about yourself that everyone should know? I'm Self Made
What do guys compliment you most on? My lips and My Ass
Do you consider yourself more of a "giver" or a "taker"? I say both
If you could have any car you wanted, what would it be? The Rolls Royce Ghost
Do you have any hidden talents? I Can Pole Dance
What do you like best about being a model? I like the lights, camera and the action
What would you consider your strongest attribute? MY Personality and My independence
If you could go anywhere in the world, where would you go and who would you take with you? I would go to Maldives and take my best friend with me.
We know you're a model and all, but you must have a favorite food. What is it? Italian Food
Besides modeling, what do you do for fun? I like to travel and do the unexpected
What are your dreams and goals? My Dream is to have more money than I can spend . My goal is to be a business owner of a medical spa.
Would you prefer a guy to pursue you, or do you like to be the aggressor? I would prefer a guy to pursue me
How did you get your start in modeling? I Got started through a really close friend of mine , who walked into the salon I was working in and discovered me.The moment she spoke to me she ask me I ever taught of modeling and I said yes and from day on she started to manage me .
What is your favorite social network? Instagram
What's the craziest thing you've ever done? Go to Vegas for the first time by Myself
Do you have a website? No
Relationship Status: Single
Favorite Sports Team: Miami Heat
Favorite Comedian: Jim Carrey
First Job: Working at a Nail Salon
Piercings/Tattoos (How many? Where?): I have 7 Tattoos throughout my whole body
What fun fact or talent should guys know about?: I'm Very Spontaneous
How does someone contact you for a modeling project? Email Bookinginfo.cm@gmail.com