Emily Cash
Age:
19,
Colombia
Emily Cash is the Live webcam model from Cali, Colombia! On our recent visit to Medellin, Colombia we came across one of the most beautiful models from our trip. She was in the VIP room of one of the hottest nightclubs and the next thing we knew she had her top off and was taking photos with the journalist from Fusion magazine. Emily had one of the nicest sets of breasts ever and the dance floor practically came to a screeching halt. If I remember correctly the music stopped as well. Later the next day we found out that she was staying in the same hotel 2 doors away. We booked a shoot with her and paid the bellman to translate during the shoot because most Colombian women don't speak English. She is a full time live cam model and loves every minute of it. She works in a studio with over 15 of the hottest Cali babes and yes all her friends were at the club that night as well. Mixed Magazine is always on the quest to find you the hottest models from around the world. So take some time to check out this model now!
Basic Profile
Name: Emily Cash

Gender: Female

Age: 19,

Country: Colombia
Appearance
Body: Normal

Ethnicity: Black

Weight: 125kg (276 lbs)

Height: 165cm (5'4")

Hair Length: Shoulder Length

Hair Color: Dyed (Other)

Eye Color: Brown

Orientation: Straight
Emily Cash – Colombian Cam Babe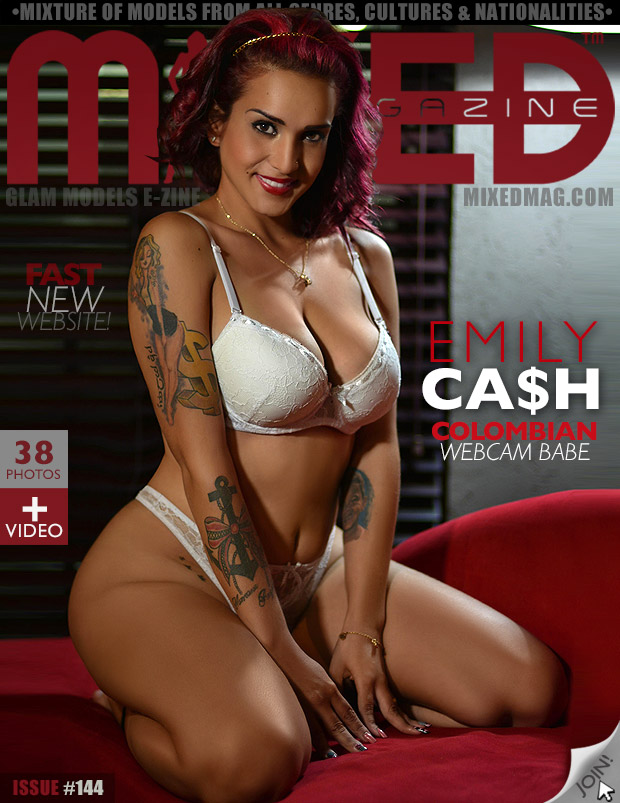 An Interview with Emily Cash:
Where were you born, and how was life growing up? Cali, Colombia. I grew up very happy! :)
How did you get your start in modeling? my friend got me started
Have you ever kissed a girl? no
What would the average person say about you? That I'm funny, sweet and loves to party oh yeah and i'm crazy
Describe your most embarrassing moment. Oh god um, probably when I had a camel toe showing and I got called out for it by someone I was with, who was of high status so yeah I died inside haha
What is the best thing about you? I cook very good?
Do you ever see yourself getting married with children? No
What's your biggest turn on? smiling, shoes and smell good
What do guys compliment you most on? My boobies
What do you sleeping in? pajama but when warm just a thong
If you could go anywhere in the world, where would you go? Jamaica
We know you're a model and all, but you must have a favorite food. spaghetti
What are your dreams and goals? to be a great webcam model
Would you prefer a guy to pursue you, or do you like to be the aggressor? I prefer to be pursued
First Job: selling clothes
What is the largest gift offered to go out on a date with you? It's always something huge but it happens so often I forget the highest. Most of them of bluffs
What is the Largest you have made in one day on webcamming? $250
What things do you do during webcam? everything
Would you ever date a webcam guy? no
Do you have a passport? Of course