Eliese Zukelman
Age:
25,
United States
Meet Eliese Zukelman

Eliese Zukelman is the sexy lingerie football player for the LFL Tampa Breeze. The lingerie football league is becoming widely know and now has 10 times nationwide. The Tampa Breeze in Tampa Florida contains some of the sexiest girls but Eliese is one of the hottest in the game. She consistently wins bikini contest all over Florida with her voluptuous curves and packs some tough confidence to go with it. She takes the sport of football very seriously and prides herself on her strength and confidence. Eliese has a take charge personality with a flirtatious twist therefore you end up with one sexy tough chick. Eliese loves to stay home with her dogs and plays video games to keep her out of trouble. Her favorite games to play are anything that has to do with Mario Brothers. Make sure you check out the LFL Tampa Breeze schedule to watch Eliese score a few touchdowns. They are also being broadcasted on MTV2 Television.
Basic Profile
Name: Eliese Zukelman

Gender: Female

Age: 25,

Country: United States
Appearance
Body: Petite

Ethnicity: Hispanic / Latina

Weight: 45kg (99 lbs)

Height: 159cm (5'2")

Hair Length: Shoulder Length

Hair Color: Blonde

Eye Color: Brown

Orientation: Straight
Eliese Zukelman – Tampa Breeze Star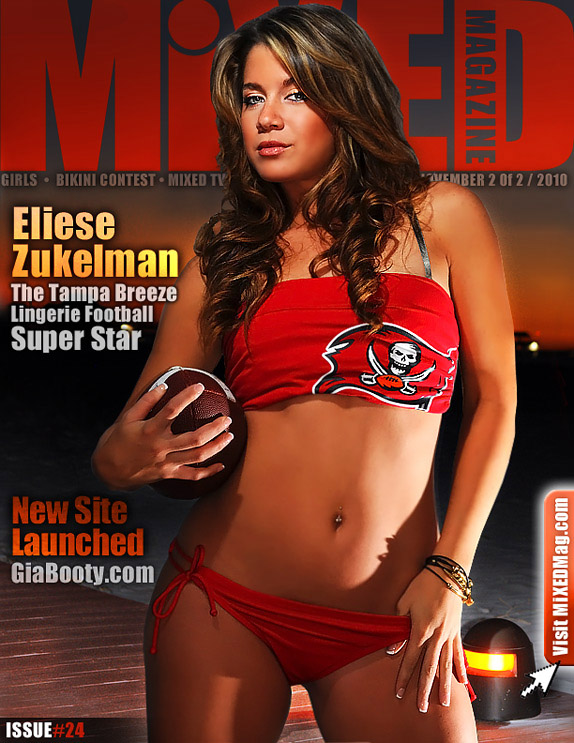 An interview with Eliese Zukelman:
Where were you born, and how was life growing up?
I was born in North Miami , life growing up was amazing both parents worked from home so I had that family upbringing that everybody dreams of.
What nationality are you?
Im Hispanic, Argentinean and Ecuadorian
Do you go to college?
I am currently in college for journalism .
What would the average person say about you?
That I am outgoing , fun and spontaneous.
Are you a good dancer?
Im not going to lie ,I have rhythm
Do you like the nerdy type, UFC fighter guy or the regular joe?
I like them all , just make me smile and you may have my attention
Do you have any secret weaknesses or guilty pleasures?
Competitiveness is my weakness if you show that you can give something your all , that's gets me every time .
What's your biggest turn on?
A killer smile
What's one thing about yourself that everyone should know?
I don't enjoy drinking alcoholic beverages. A sprite is fine by me
What do guys compliment you most on?
My eyes
Do you consider yourself more of a "giver" or a "taker"?
Both everything should have a little give and take
If you could have any car you wanted, what would it be?
Range Rover
Do you have any hidden talents?
I can curl my hair with a straightener
What do you like best about being a model?
The pictures you can keep to look back on at this point in your life.
What would you consider your strongest attribute?
I am very considerate
If you could go anywhere in the world, where would you go and who would you take with you?
New Zealand , it may be the dork in me but ever since I saw the Lord of the ring movies I just thought it was beautiful , a best friend .
What is your favorite food?
Sushi
What do you do for fun?
I ride horses
What are your dreams and goals?
To be an entertainment reporter or an actress
How did you get your start in modeling?
Kind of just found me
Myspace or Facebook?
Facebook without a doubt
Do you have a website?
no not yet
Favorite Sports Team:
Gators
Favorite Comedian:
Dane Cook
First Job:
Nanny

How does someone contact you for a modeling project?
My email ElieseSara@gmail.com