Diamond Kitty
Age:
27,
United States
Diamond Kitty is the very successful adult star from Miami that has stamped her name in the industry for the past several years. She has grown to be a true professional in her field and has ventured into new aspects of modeling. She now does glamour modeling, webcam modeling and more. She is known for her booty but ultimately her ability to perform and give 1000% for each and every project she works on. She always stays sexy and loves being naked. She loves to take control and always demands respect. Her body is amazing and her booty doesn't stop. When she showed up to her Mixed Magazine cover shoot she had a bag full of very sexy and classy outfits. She made shooting very easy. Check out the sexy nude colored one piece crotchless lingerie and white fur coat looks shot in a Miami penthouse balcony.
Basic Profile
Name: Diamond Kitty

Gender: Female

Age: 27,

Country: United States
Appearance
Body: Thick

Ethnicity: Hispanic / Latina

Weight: 128kg (282 lbs)

Height: 162cm (5'3")

Hair Length: Long

Hair Color: Black

Eye Color: Brown

Orientation: Straight
Diamond Kitty – A True Pro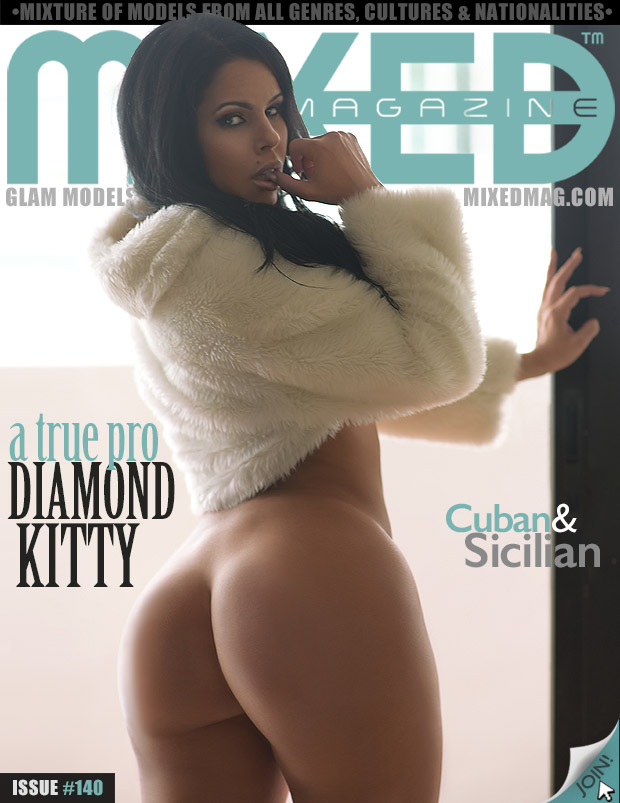 An Interview with Diamond Kitty:
Where were you born, and how was life growing up? Cuban. I had a great life growing up.
How did you get your start in modeling? I got a contract with Digital Playground and started doing porn
Favorite Sex position? Doggy
Have you ever kissed a girl? Of course
What has been your most memorable experience as a model? I have so many! :)
What would the average person say about you? that I'm quiet mean and serious
Describe your most embarrassing moment. I don't get embarrassed
What's your biggest turn on? Hygiene
What do guys compliment you most on? my smile
What do you normally sleep in? naked
If you could go anywhere in the world, where would you go? I would go to Cuba
We know you're a model and all, but you must have a favorite food. What is it? italian
What are your dreams and goals? to be happy. world peace
Would you prefer a guy to pursue you, or do you like to be the aggressor? Whatever happens happens
First Job: sales agent for real estate company
How does someone contact you for a modeling project? diamondkittybooking@yahoo.com
What is the largest gift offered to go out on a date with you? a Rolex
Would you date a guy that you met on social network? no
Do you have a passport? yes