Dalia Saladin
Age:
21,
United States
Check out this fresh face model Dalia Saladin from Miami, Florida. She is the girl next door with her all natural body, cute face and innocent look. Her body is simply amazing. She has a slender frame but her booty is like a big bubble that makes you just want to grab it. Her sex appeal is also amazing. Everything she does is just sexy from the way she walks to the way she talks. Five minutes with this beauty and you will be wanting to marry her on the spot. She is new to the world of modeling but it all comes very natural to her. She is excited to become a popular model and we know that will be a walk in the park for her. She is a model, host, actress and a brand ambassador. Check out her full interview below and make sure you join to see her incredibly sexy photoshoot and video
Basic Profile
Name: Dalia Saladin

Gender: Female

Age: 21,

Country: United States
Appearance
Body: Normal

Ethnicity: White

Weight: 128kg (282 lbs)

Height: 170cm (5'6")

Hair Length: Long

Hair Color: Dyed (Other)

Eye Color: Brown

Orientation: Straight
Dalia Saladin – Girl Next Door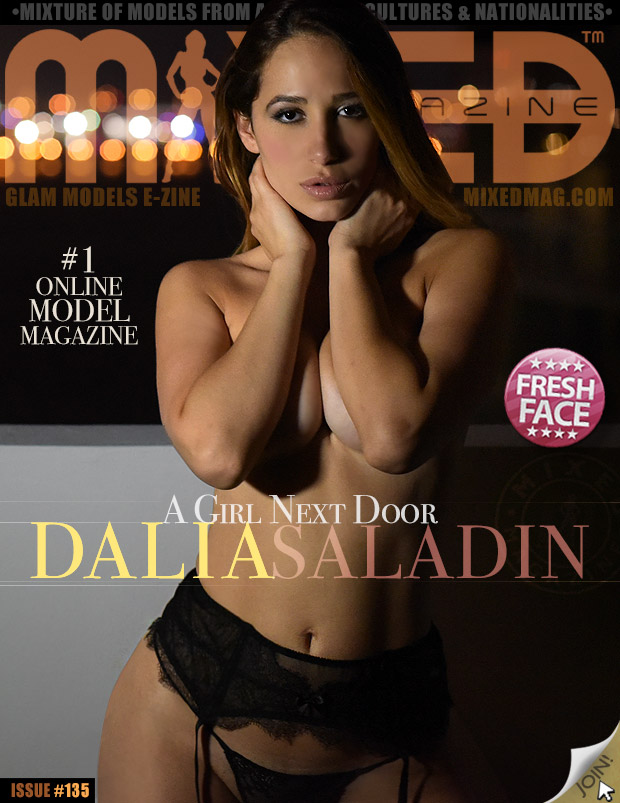 An Interview with Dalia Saladin:
Where were you born, and how was life growing up? I grew up in Miami and had the best life ever growing up. I have a great family and I never got into any trouble.
How did you get your start in modeling? I've been modeling since I was a child but got back into recently with photographer Nick Ramirez
Have you ever kissed a girl? Yes
What has been your most memorable experience as a model? My shoot with Nick Ramirez. He did a cell phone slow mo clip of my booty and it blew up on instagram
What would the average person say about you? That I'm sweet
What's your biggest turn on? Confidence
What do guys compliment you most on? my lips and my booty
What do you normally sleep in? t-shirt only
If you could go anywhere in the world, where would you go? Italy
We know you're a model and all, but you must have a favorite food. What is it? Pizza
What are your dreams and goals? To be successful and be happy in modeling
Would you prefer a guy to pursue you, or do you like to be the aggressor? I like to be pursued
First Job: secretary
How does someone contact you for a modeling project? EMAIL ME
What is the largest gift offered to go out on a date with you? It hasn't happened to me yet
Would you date a guy that you met on social network? no
Do you have a passport? Yes