Cristina Mirra
Age:
22,
United States
Cristina Mirra is the cutest little Canadian that ever lived. Growing up in Montreal she enjoyed life to the fullest. At an early age she was approached to do a photoshoot and next thing you know she was one of the most popular models in the area. She started doing car shows, bikini contest, photoshoots, hosting events and traveling frequently. Her resume and experience is extremely extensive. Her sweet and carefree personality is a joy to be around and she always provides the highest level of professionalism. Cristina Mirra continues to grow her resume and is now resides in sunny Florida where she can really work on her perfect tan and grace the beaches with her incredible body.
Basic Profile
Name: Cristina Mirra

Gender: Female

Age: 22,

Country: United States
Appearance
Body: Thick

Ethnicity: White

Weight: 130kg (287 lbs)

Height: 170cm (5'6")

Hair Length: Bald

Hair Color: Blonde

Eye Color: Blue

Orientation: Straight
Cristina Mirra – Canada's Finest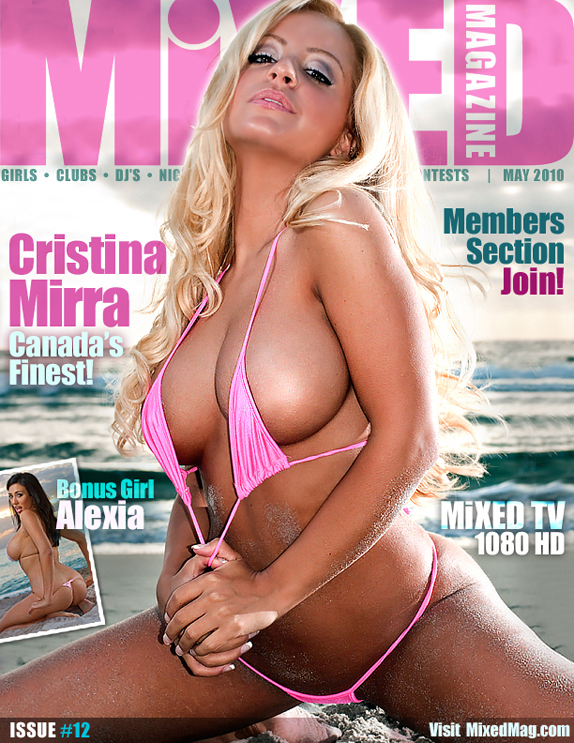 An Interview with Cristina Mirra:
Where were you born, and how was life growing up?
Born in Montreal Qc, Growing up I was very spoiled and loved every moment of it :)
What nationality are you? I'm Italian.What would the average person say about you? That I'm so cute.
Are you a good dancer? Oh YEAH!
Do you like the nerdy type, UFC fighter guy or the regular joe?
I really don't mind what he is as long as he respects me and loves me for me. I'll be more than happy.
Do you have any secret weaknesses or guilty pleasures?
I guess my weakness would have to be CANDY…lol
Describe your most embarrassing moment. OMG! I went to get my nails done and I was wearing a tube top with a little opened jacket over and only once I left I realized my boob was out. Im sure every 1 in there saw my boob.OMG!… I NEVER WENT BACK!
What has been your most memorable experience as a model? Being published on the front page of my home town news paper.
What's your biggest turn on? GOOD HYGIENE!
What's one thing about yourself that everyone should know? I say what I mean and I mean what I say.
I play a role when I'm front of the camera, but in my every day life I'm not a barbie doll. Im very laid back. I'm a T-shirt + jeans type of chick! Oops! you said 1 thing… My bad!
What do guys compliment you most on? My booty
Do you consider yourself more of a "giver" or a "taker"? Id say I'm both. I try to be fair.
If you could have any car you wanted, what would it be? I know you said car, but can I get a private jet instead.
Ok my car would be an Austin Martin Vanquish/S Mansory Edition.
Do you have any hidden talents? I guess pole dancing would be 1. I took private classes and turned out to be pretty good at it. Who knew!
What do you like best about being a model? Meeting new people. I love it; it's what keeps me going.
What would you consider your strongest attribute? I'm very social, and down to earth.
If you could go anywhere in the world, where would you go and who would you take with you?
I'd want to go to Tokyo and I'd take my BFF and my mom.
We know you're a model and all, but you must have a favorite food. What is it?
I love pasta, candies, and all that yummy stuff i'm not allowed to eat.
Besides modeling, what do you do for fun? Fun time is hanging out with my girls.
What's the craziest thing you've ever done?
I'm having a hard time with this question…so I'm going to say: sex on the beach during the day.
Do you have a website? Its coming soon
Relationship Status: In a Relationship
Favorite Sports Team: Montreal Canadians "HABS"
Favorite Comedian: Of all time: Eddy Murphy Raw
What are your dreams and goals? My dream is to be famous; my goal is to be successful.
Would you prefer a guy to pursue you, or do you like to be the aggressor? Id say both…I like to be the aggressor at 1st but them I take a step back and wait to be pursued.
How did you get your start in modeling? I walked in to a clothing store and the owner asked me to model his clothes at a car show, and it just took off from there.
What is your favorite social network? Facebook
First Job: Baby sitting.
Piercings/Tattoos (How many? Where?): Piercings:9 (5 on my ears, nose, tongue , and 2 on my belly)Tattoo:2 (a butterfly on my lower back, and a star in between my collar bone and shoulder)
What fun fact or talent should guys know about? I know how to "booty pop"…I can pop my booty like its on hydraulics…lol…
How does someone contact you for a modeling project? MM URL: https://www.modelmayhem.com/cristinamirra