Brianna Avila
Age:
28,
United States
Brianna Avila comes to you from Fort Lauderdale, Florida. She is mixed Venezuelan and Colombian and has one of the sexiest booty tan lines ever. She is new to modeling and is very excited to become a featured model at Mixed Magazine. She is very comfortable with being in front of the camera and loves to show off her 39 inches of latin booty. She has just recently moved to Florida from Venezuela and is loving every minute. She was brought to us by Seven Talent Modeling Agency who specializes in the hottest models from Miami, NYC and LA.
Basic Profile
Name: Brianna Avila

Gender: Female

Age: 28,

Country: United States
Appearance
Body: Thick

Ethnicity: Black

Weight: 150kg (331 lbs)

Height: 172cm (5'7")

Hair Length: Long

Hair Color: Black

Eye Color: Brown

Orientation: Straight
Brianna Avila Flaunts Purple Bikini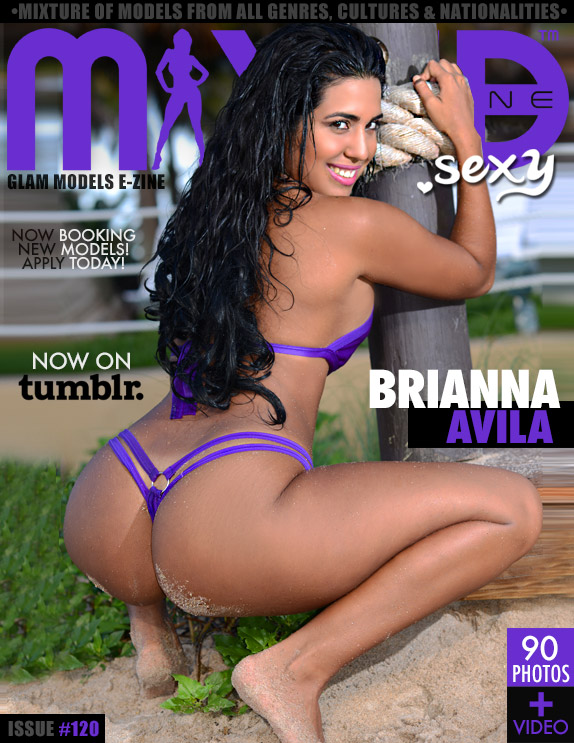 An Interview with Brianna Avila:
Where were you born, and how was life growing up? I was born in Miami but raised in Venezuela, my mother is Venezuelan and my father is Colombian so I was born in Miami but hey took me to Venezuela when I was 2 years old then I move back to Miami 4 years ago…
What would the average person say about you? They would say I am funny person and very social
Are you a good dancer? Yes I can dance any type of Music
Do you like the nerdy type, muscle guy or the regular joe? I like Muscles guy is my type but always with a good personality that is more important to me
Do you have any secret weaknesses or guilty pleasures? No I don't have a secrets
Describe your most embarrassing moment. I think when I started to learn English and I have to go to a restaurant and ask for my food that always was the most embarrassing moment because I used to make mistakes a lot when I had to ask for something, like one day I went to subway and I asked the person to put black beans on my sandwich but I was referring to black olives and the person started laughing.. and I was just red because the all the people in the line behind me started to laugh too..
What has been your most memorable experience as a model? I'm just starting in this so I think the shoot with mixed magazine it would be the most memorable experience
What's your biggest turn on? a kiss on my neck
What's one thing about yourself that everyone should know? I LOVE TO HELP PEOPLE AND I enjoy it, so if someone needs help from me and I can do it I will do it
What do guys compliment you most on? my lips the always says I have nice lips and my butt or legs
Do you consider yourself more of a "giver" or a "taker"? I think im a giver
If you could have any car you wanted, what would it be? I'm not a big fans of cars but I like Lamborghinis a lot
Do you have any hidden talents? I used to belly dance when I was younger
What do you like best about being a model? I love to see myself on the pictures and I love to be sexy
What would you consider your strongest attribute? My outgoing personality and HOW HUMBLE I am
If you could go anywhere in the world, where would you go and who would you take with you? I would love to go to Egypt and I would love to go with my family
We know you're a model and all, but you must have a favorite food. What is it? Italian food , I love pasta, lasagna, pizza that's my favorite
Besides modeling, what do you do for fun? Beach and travel when I can and I love to spent time and go out with my family
What are your dreams and goals? My dreams is to have twins (I love children) and a beautiful family but after I accomplish my goal which is get graduated as Surgical tech
Would you prefer a guy to pursue you, or do you like to be the aggressor? I prefer a guy to pursue me I don't think a lady will never be the aggressive that's the man job
How did you get your start in modeling? I've been contacted for modeling all the time thru instagram
What is your favorite social network? Instagram
What's the craziest thing you've ever done? get a piercing on my belly botton when I was 14 years old, my mom almost killed me
Do you have a website? no
Relationship Status: Single
Favorite Sports Team: Miami Heat
First Job: Costumer Service at Dong feng Motors Group
Piercings/Tattoos (How many? Where?): I just have a piercing on my belly botton
What fun fact or talent should guys know about?: I can belly dance sexy
How does someone contact you for a modeling project? by email Briana_aponte03@hotmail.com or instagram @Brianna1986