Amber Fields
Age:
20,
United States
Amber Fields is the new rocket taking off and do you wanna know why? Well we will tell you why…It's because she's f****** PERFECT! That's why. Let's give a shout out to the West Coast of Florida for breeding this perfect lil sweetheart. She is one of the most adorable models because not only is she incredible beautiful with the 5'3 perfect body but her personality brings a certain joy to everyone. She is a very focused new model and is grabbing every opportunity possible. She is also very independent for such a young woman. She just recently purchased her own home and has plans to buy more. We love everything about this pure beauty now go get your gander on and learn more about her. You're Welcome!
Basic Profile
Name: Amber Fields

Gender: Female

Age: 20,

Country: United States
Appearance
Body: Petite

Ethnicity: Hispanic / Latina

Weight: 50kg (110 lbs)

Height: 162cm (5'3")

Hair Length: Long

Hair Color: Blonde

Eye Color: Brown

Orientation: Straight
Amber Fields – Adorably Sexy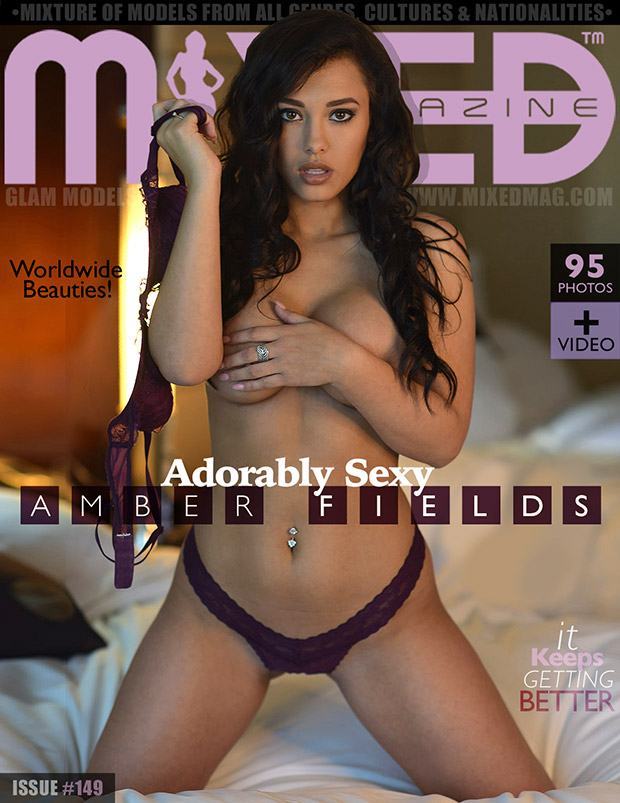 An interview with Amber Fields:
Where were you born, and how was life growing up? Lakeland, Florida. I had an awesome childhood. Both my parents are in my life even though they were split up. I'm so grateful for the life I was given. I'm so fortunate to have the parents I have in the family I have. My parents are so proud and support of anything I do they're all about the love and never judge me. My dad even comes to my competitions and my mom buys every publication
How did you get your start in modeling? honestly I went through a break up. I needed something I've always wanted to do but I didn't lay the break up destroy me I persevered.
Favorite Sex position? On top
Have you ever kissed a girl? Lol yeah I show my love with kisses and cuddles
What has been your most memorable experience as a model? Winning my first bikini competition
What would the average person say about you? Most people say that I'm beautiful but when you get to know me they realize I'm much more than that and I'm very sweet loving and genuine
Describe your most embarrassing moment. I went to this party with people haven't seen in six years and a bug flew in my face and I step back in there was a cooler so I tripped over it and the whole party got silent and just stared at me
What's your biggest turn on? Pretty teeth and tattoos
What do guys compliment you most on? My butt
What do you sleeping in? Comfy panties
If you could go anywhere in the world, where would you go? I really want to travel all of the world is not one place I don't want to go
We know you're a model and all, but you must have a favorite food. What is it? All food! I am a food lover. I don't discriminate. Make me love you bye giving me food
What are your dreams and goals? Of course my dream is become a successful model/actress but my real goal is to have tons of property and just be my own boss.
Would you prefer a guy to pursue you, or do you like to be the aggressor? Well I'm a Leo so I have to be in control and I hate when guys come up to me like if I think you're hot and I want to go after you I will. don't come at me with that intention.
First Job: ice cream sweetheart
How does someone contact you for a modeling project? You can really contact me through Instagram or email me at Amberfieldsmgmt@gmail.com
What is the largest gift offered to go out on a date with you? 20,000 but it wasn't just a date so I had to say no
Would you date a guy that you met on social network? I actually met my current BF by sliding into HIS dms
Do you have a passport? Waiting for it to arrive